International accolade for Australian innovation
19 April 2018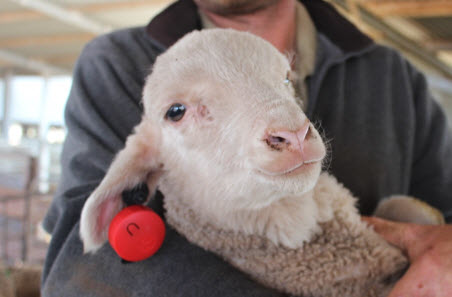 SmartShepherd, a NSW-based start-up which has developed an electronic pedigree ID system for livestock with support from MLA Donor Company's I + E CONNECT partnership, recently triumphed at the global AgFunder Innovation Awards.
The awards, announced in March in San Francisco, recognise the use of cutting edge technologies to solve real business problems. SmartShepherd was named the Most Innovative Startup Pre-Series A in the Farm Tech category, against entries from around the world.
How does it work?
SmartShepherd, the brainchild of livestock genetics specialist David Rubie and 'Internet of Things' expert Glenn Vassallo, works by attaching small devices to ewes and their offspring to record pedigrees. The tags and collars are reusable, affordable and eliminate the need for expensive DNA testing to establish parentage. It also allows full pedigree recording over an entire flock.
Data is managed with an app and the only tools needed are an applicator, the smart pod tag and an RIFD scanner. It works independently of internet or mobile telephone coverage, meaning greater application in remote locations.
The I + E CONNECT partnership allowed SmartShepherd to run large-scale paddock trials on sheep to identify challenges with the practical application of the system.
"SmartShepherd costs less than 15% of the cost of genomic testing over three years and is far less labour intensive than traditional mothering up," David said.
"It will help unlock the genetic potential of a herd or flock due to early identification of the most productive breeding stock.
"Animal welfare gains are also possible due to being able to track an animal's mothering ability."
Connecting innovation with entrepreneurship
I + E CONNECT (innovation and entrepreneurship connection) uses non-levy funds to deliver transformational change and help prepare the Australian red meat industry for the future by:
attracting and supporting entrepreneurs, start-ups and scale-ups to develop and commercialise new and disruptive ideas
articulating industry pain points and identifying investment opportunities
providing industry expertise, insight and co-investment funding
connecting investors with exciting, qualified opportunities
helping its partners become more agile by building their internal capability to disrupt and fast-track innovation.
In the case of SmartShepherd, I + E CONNECT allowed the commercialisation of the tagging system to leap forward a year through financial support which allowed more rigorous and targeted trials.
"Access to funds meant we could choose who we did the trials with, in our case producers who were already collecting decent data on their ewe flock, and we could run larger trials," David Rubie said.
"We already had good industry relationships but were facing a two-year trial process due to our lack of funds, rather than the one year."
Where to now?
Following further refining, the system has undergone a soft launch while SmartShepherd focuses on streamlining processing for the highly repeatable and reliable manufacturing of the four components.
Initial target audiences are sheep stud stock producers, followed by commercial producers and the research sector. Europe and North and South America have also been identified as target markets.
David said ongoing development is underway to make the system practical for cattle (cows do not like the collars as much as sheep and calf behaviour can see them connect to multiple cows) and to develop further applications for the system, such as monitoring livestock behaviour.
"A Sydney University project will use SmartShepherd to establish the onset of oestrus in ewes by tracking rams. The project aims to improve outcomes in the application of artificial insemination," he said.
"For SmartShepherd, the sky is the limit. It will take time and investment to get all these ideas off the ground and supply the multitude of market opportunities."
More information:
I + E Connect - MLA Donor Company
Email Josh Whelan
Join myMLA today
One username and password for key integrity and information Systems (LPA/NVD, NLIS, MSA & LDL).
A personalised online dashboard that provides news, weather, events and R&D tools relevant to you.
Customised market information and analysis.
Already registered for myMLA?