Is phosphorus deficiency impacting your income?
14 October 2016
By Geoff Niethe, MLA Project Coordinator Animal Production
The impact of phosphorus (P) deficiency in Australian grazing systems has been recognised and researched for more than a century.
P is an essential component in the diet of all cattle especially when pastures are green as it improves dry matter intake which leads to improved growth rates and better fertility. Lactating cows need extra phosphorus all the time as they lose a lot through milk production.
The Empire Marketing Board of Great Britain contributed to research funding in 1932 by Turner et al when lameness in cattle (peg leg) was causing major concerns in the Charters Towers region. Fifty years later Lazenby et al was able to demonstrate the effect superphosphate had on pasture production in legume-based intensive grazing systems – a fact well recognised by livestock producers in southern Australia for many years.
The questions producers need to ask themselves in times of increasing land prices and improved livestock values are:
What is the P status of my paddocks?
What is the most cost effective approach to addressing P deficiency?
Will I get a positive return by the addition of P to my grazing enterprise?
Gavin Peck, a research scientist with the Queensland Department of Agriculture and Fisheries, in his current MLA-funded research to find suitable legume varieties for southern Queensland, is exploring a whole range of options including soil P levels and the economics of improving productivity in selected regions by application of P to pastures.
One thing that he didn't expect to find was that in some soil types in areas previously thought to have sufficient P, such as old cropping country in the Brigalow Belah region of Wandoan, are now actually deficient. He then went on to identify that this was having a huge impact in growing steers.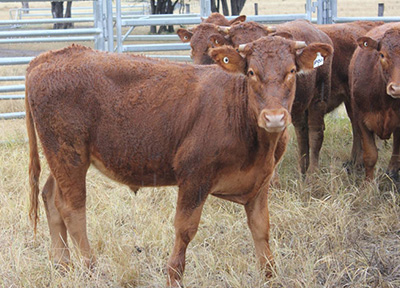 ABOVE: Steers at Wandoan not performing as expected
The diagnosis was confirmed in these growing animals by taking a simple blood test and establishing their plasma inorganic phosphorus levels.
"We now need to look at the options available to address the problem. The simple solution would be to supplement animals with P over the wet season but other possibilities may exist," Gavin said.
"For example, in this situation we may get a very good pasture response by applying superphosphate to the pastures, which will improve legume growth that promotes increased soil nitrogen levels which in turn will lift grass production and ultimately increase carrying capacity as well."
The key messages to come out of all this work are:
Just because your cattle don't have peg leg doesn't mean they are not P deficient.
Establish the P status of your paddocks – they most likely will not be all the same.
Take blood samples from growing animals in a good season.
Explore all the available options to ensure you are getting maximum return for P investment.
Do some simple superphosphate strip trials in suspect paddocks and monitor the response.
MLA has invested around $3 million of levy dollars in P related research in northern Australia in the past five years and while it is a very old story, it seems there are potentially huge gains still to be made by gaining a better understanding of the problem and ensuring improved adoption of the findings.
More information
Download MLA's manual on Phosphorus management in beef cattle in northern Australia
Geoff Niethe E: g.niethe@bigpond.com
Join myMLA today
One username and password for key integrity and information Systems (LPA/NVD, NLIS, MSA & LDL).
A personalised online dashboard that provides news, weather, events and R&D tools relevant to you.
Customised market information and analysis.
Already registered for myMLA?