Japan embraces 'Are you Genki?' campaign
01 March 2018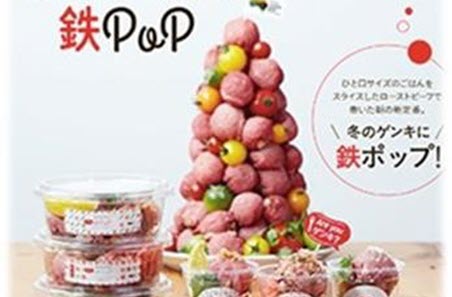 The health benefits of eating iron-rich True Aussie Beef during Japan's notoriously cold winter months has been the focus of two-month campaign that has resulted in a total audience reach of more than 50 million people.
The "Are you Genki?" campaign focused on female consumers in Australia's largest beef export market and highlighted the importance of women having enough iron in their diet.
The Japanese term 'genki', means something close to 'healthy' or 'energetic' in English, and insinuates vitality. For a number of years, MLA has focused on ensuring True Aussie Beef is seen as helping Japanese families feel 'genki'.
The "Are you Genki?" campaign ran throughout December 2017 and January 2018 for the second consecutive year and was developed in collaboration with Nutritional Science Professor, Kazuhiro Uenishi, from the Kagawa Nutrition University, in response to consumer surveys in Japan which showed that 90% of women didn't believe they were getting enough iron in their diets.
The surveys also revealed that 90% of women identified as being more tired in winter, and 63% were sensitive to the cold.
The Japanese have a culture of eating protein (usually fish) and rice for breakfast, and so the campaign included the launch of a "Genki beef menu" for breakfast, utilising Akaminiku (lean beef). Recipes included tetsu pops, which are small rice balls wrapped in sliced roast beef.
The campaign website showcased new recipes featuring Aussie beef, and reinforced all of the scientifically proven health benefits of eating beef.
An interactive competition delivered through social media was held as part of the campaign, giving consumers the opportunity to win True Aussie Beef products. It generated over 13,500 tweets and an audience reach of more than 9.5 million people.
In January, MLA opened a pop-up store - the Iron Breakfast Bar - in Osaka.The campaign's launch event attracted widespread media coverage on morning television programs and evening news; coverage in newspapers; and stories on 103 online news sites.
Japan is Australia's largest beef export market stemming from a long established trade relationship.
In the 2017 calendar year, Australia exported 292,364 tonnes (shipped weight) of beef to Japan, comprising 10% chilled grassfed, 30% chilled grainfed, 42% frozen grassfed, and 18% frozen grainfed.
While Australia is the dominant imported beef supplier to Japan, it is facing strong and increasing competition from the United States. Imports from the US surged in 2017, supported by the rise in US domestic production and subsequent decline in prices.
Despite Japan's ageing society and a flat to declining population, its affluent and urbanised consumer base will continue to demand high volumes of quality imported proteins, such as Australian beef.
Japanese consumers consider beef the most premium protein, and associate it with good taste and being a family favourite.
To find out more about Australia's beef market in Japan, check out the latest global market snapshot here.
More information
Andrew Cox
MLA International Business Manager – Japan & Korea
acox@mla.com.au
Join myMLA today
One username and password for key integrity and information Systems (LPA/NVD, NLIS, MSA & LDL).
A personalised online dashboard that provides news, weather, events and R&D tools relevant to you.
Customised market information and analysis.
Already registered for myMLA?