Kaylene's winning formula pays MSA dividends
16 September 2017
Selecting early maturing bulls with a good temperament is one of the many factors that go into producing cattle that consistently achieve some of Queensland's highest performing Meat Standards Australia (MSA) results for Western Downs beef producer, Kaylene Wonka.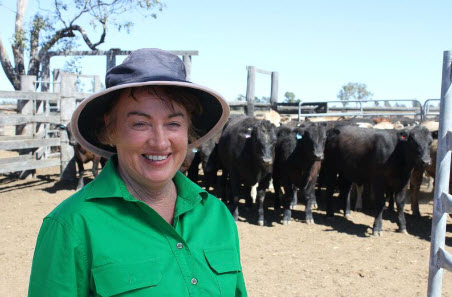 Kaylene won the2017 MSA Excellence in Eating Quality Most Outstanding Beef Producer award for Queensland/Northern Territory presented at Gympie last night. (Click here for more details about the Queensland MSA Awards)
The MSA Most Outstanding Beef Producer award was open to producers that used any production system to achieve MSA eligible cattle and excluded those cattle that met grainfed beef specifications.
At her property, 'Blue Poles', near Chinchilla, Kaylene runs her own Murray Grey/Angus-cross breeding herd, comprising 300 females and turning off approximately 100 head annually for the MSA program.
The cattle are sent for processing over 250kg-plus dressed weight at JBS Australia's Dinmore plant.
Kaylene also supplies cattle directly to a number of local butchers.
"I breed all of my own cattle but do buy in a few occasionally, depending on the season," Kaylene said.
"The cattle are predominantly grassfed, mainly on Rhodes grass and also leucaena, and grain assisted at the end.
"We were one of the first in the region to plant leucaena. We've been growing it since 1994 and we now have about 25 hectares of Cunningham and Tarramba varieties.
"It's an advantage having it because it has a high nutritional value, is high protein, and it grows throughout the year and is drought tolerant.
"After grazing on pastures and the leucaena, the cattle are grain assisted on a ration of sorghum, barley and wheat, and I grow all of my own grain as well."
Kaylene and her late husband, Darryl, became MSA registered producers in the early 2000s.
Kaylene said the feedback provided by the MSA program was valuable in helping to make ongoing improvements to the herd.
"Fat depth is a big thing. When I draft the cattle, I try to estimate fat depth and then compare what comes back on the kill sheet," Kaylene said.
"I like to check pH and marbling - they all play an important role in MSA."
Selecting the right bulls to suit her operation is also critical, with Kaylene using estimated breeding values (EBVs) to help refine her choices.
"A lot goes into our breeding. When purchasing bulls, I look for quality bulls that are early maturing and have a good temperament and medium birth-weight - we don't want to be turning off bullocks," Kaylene said.
"I like to turn them off with milk teeth. Turning them off at an earlier weight-for-age also helps MSA ossification scores which help improve the MSA Index.
"I check the cattle every day so they get used to my voice and having that contact, and this plays a big part in temperament as well."
Besides over the hooks, Kaylene's cattle have achieved success over the years on the hoof as well, winning prime cattle sections at a number of shows.
Kaylene's family grew up showing led steers and Kaylene said over the years this has refined their herd to produce better cattle.
"For example, purchasing stud cows to retain heifers to improve our herd," Kaylene said.
For more information about the MSA system, visit: www.mla.com.au/msa
To look at your own carcase feedback and use the MSA Index calculator, visit: www.mymsa.com.au
Join myMLA today
One username and password for key integrity and information Systems (LPA/NVD, NLIS, MSA & LDL).
A personalised online dashboard that provides news, weather, events and R&D tools relevant to you.
Customised market information and analysis.
Already registered for myMLA?