Keeping the customers satisfied
15 November 2017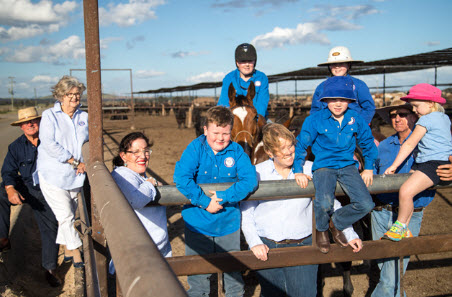 Sandalwood Feedlot, near Dalby Queensland, is an industry survivor.
One of the few remaining custom feed yards, its 31-year history is built on innovation, adaptation and meeting customer needs.
Human Resources and Business Development Manager, Jilly Tyler, who is a part-owner of the family operation and is currently an MLA Donor Company (MDC) Young Food Innovator, describes their marketing strategy as "subtle" - preferring to rely on referrals to attract new customers than overt advertising campaigns.
Sandalwood has an annual throughput of 50,000 head custom fed for a range of markets from domestic wholesale to premium markets in Japan and Korea. A small percentage of the through put are owned by the family and fed 150-250 days for premium export markets.
To remain competitive as an independent operator, Sandalwood has diversified its services to include sourcing markets for client cattle as well as providing the normal feeding services.
"We have a lot industry contacts and keep a close eye on all sectors of the market," Jilly said. "We know what kinds of animals processors are looking for and which markets are producing the best returns and we use this knowledge for our clients' benefits."
Jilly believes the keys to securing happy customers - both in terms of cattle owners and finished cattle buyers - include:
Professionalism: "Our priorities are to deliver industry best practice, personalised customer service and to have the ability to react quickly to external influences such as market fluctuations, changing seasons that impact supply, grain prices and movements in the Australian dollar. Longevity in this business also helps."
Quality control: Sandalwood has a 2,000ha farm which is used for grain and fodder production but still buy in a considerable portion of their stock feed. "Traceability of feed as well as the animals is really important to the customer," Jilly said. "All our feed stuffs, their origin, what they were treated with is recorded and we constantly measure feed energy, protein and moisture levels to ensure the quality of feed we brought into the yard remains what we say it is, right up until consumption."
A family concern: The family retains majority ownership of Sandalwood, and their daily hands-on involvement, helps them remain competitive. "Our managing directors are my father, Kev Roberts, and my brother-in-law Warren Salter. "Kev tends to focus more on the operational aspects of the feedlot and our farming operation while Warren's focus is the cattle." Her sister, Megan Salter, is a veterinarian and runs the feedlot's animal welfare program, oversees animal health issues and is also the financial controller. Jilly, an occupational therapist, manages human resources and business development. "We're all really different and each of us brings something unique to the business," she said.
Through the Young Food Innovator program, Jilly is investigating how the industry can do more with non-premium cuts and how they can be incorporated into convenient, nutritious meal options for busy people.
Information:
Jilly Tyler
T: 07 4663 7739
E: jilly@sandalwoodfeedlot.com.au
Join myMLA today
One username and password for key integrity and information Systems (LPA/NVD, NLIS, MSA & LDL).
A personalised online dashboard that provides news, weather, events and R&D tools relevant to you.
Customised market information and analysis.
Already registered for myMLA?