Ken to talk on Red Meat Partnership at LIVEXchange
02 November 2017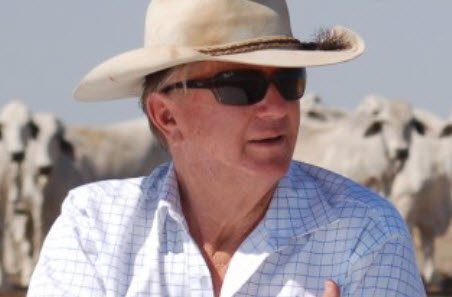 Australian cattle industry leader Ken Warriner will share insights about the Indonesia–Australia Red Meat Partnership at this month's LIVEXchange conference in Perth.
Ken Warriner is best known as the founding CEO and former chairman of Consolidated Pastoral Company and is a recognised leader in the Australian agricultural industry, with more than 55 years' experience.
These days, Ken is kept busy travelling the globe as chairman and part-owner of Palladium, an international consulting and project management company helping global communities achieve economic growth and stability.
Ken has long advised Australian governments on agricultural issues and has been a member of the Red Meat Partnership – formerly titled the 'Indonesia–Australia Partnership on Food Security in the Red Meat and Cattle Sector' – since its inception in 2013.
The Partnership was formed in the wake of the Indonesian live cattle export suspension in 2011, and is underpinned by a $60 million fund provided by the Australian Government over 10 years to 2024.
"Julia Gillard, the PM at the time, agreed to fund the Partnership to repair the adverse political damage that had been done by the suspension of the live cattle trade to Indonesia," Ken recalled.
"The idea was to have access to the highest levels in both governments to advise on various matters and requests – matters which often need to be handled sensitively, as not all requests from either side can be agreed to or can be financed by Australia.
"The Partnership helped free up trade relations and got the trade into a much more secure position."
Ken is one of three non-government Australian members of the Partnership and his role is to advise on cattle breeding.
"The Indonesian president, Susilo Bambang Yudhoyono, indicated at the start of the Partnership that one of his goals was for his country to become self-sufficient in beef production," Ken said.
"That is an enormous ask for Indonesia and, as Australia has a lot of expertise in this area, I believe we have an obligation to assist – particularly if it is helping the needy."
Ken will join a four-member panel to discuss the Red Meat Partnership's achievements and challenges during the MLA and LiveCorp Producer Briefing Forum at LIVEXchange.
The Producer Briefing Forum will be held on day one of the conference – Wednesday, 15 November – and will include a number of other presentations, including MLA's Managing Director Richard Norton on the Livestock Export Program, discussion of Middle East sheepmeat opportunities, and a Q&A with vets about life on board a livestock vessel.
Find the LIVEXchange conference program at livexchangeconference.com.au.
Join myMLA today
One username and password for key integrity and information Systems (LPA/NVD, NLIS, MSA & LDL).
A personalised online dashboard that provides news, weather, events and R&D tools relevant to you.
Customised market information and analysis.
Already registered for myMLA?