Kitty shares dual view on integrity
12 October 2017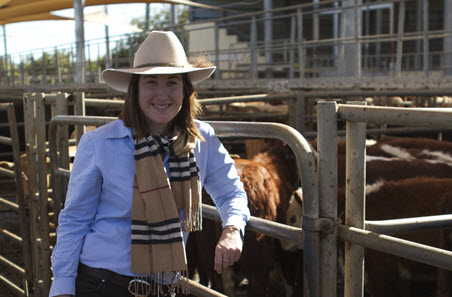 Kitty Sheridan understands the value of Australia's livestock integrity systems as both a processor and producer.
Kitty is responsible for Strategic Operations with Teys Australia, Naracoorte and coordinates each day's production across 18 different market programs.
Despite living in South Australia, she is also involved in her family's cattle trading business in Dubbo, NSW. With her parents, Phil and Sue, she runs 300 trade steers and heifers and 200–300 Wiltipoll–Australian White ewes on the 910ha property 'Tralee'.
"In 2015 I was the South Australian representative for the NAB Agribusiness Rising Champion Initiative," Kitty said.
"I was invited to join a sub-committee of Cattle Council and I chose the Industry Systems and Food Safety sub-committee. It relates directly to my work with Teys and it's also something I am interested in as a producer.
"Teys can't process cattle unless they are Livestock Production Assurance (LPA)-accredited, so ensuring the highest level of LPA compliance is important to us to ensure supply, as well as to give our brands a point of differentiation in the market.
"As a producer, I understand how important it is to our market access to protect Australia's great reputation for clean and green product.
"Consumers around the world want to know where their food comes from and how it's produced, particularly in terms of food safety and animal welfare, and we can't afford not to respond."
Kitty said she doesn't expect the new LPA compliance requirements to be too onerous.
"Most farmers I know keep a farm diary or at least write everything they do on farm in a pocket notebook, so that's a good basis for establishing the necessary record-keeping," she said.
Kitty's tips for effective compliance
Resources:
Watch Kitty explain her commitment to integrity in a video at mla.com.au/integrityvideos
For fact sheets, resources, important links and templates go to mla.com.au/integrity
Go to animalhealthaustralia.com.au and search 'farm biosecurity'.
LPA helpline: 1800 683 111
Join myMLA today
One username and password for key integrity and information Systems (LPA/NVD, NLIS, MSA & LDL).
A personalised online dashboard that provides news, weather, events and R&D tools relevant to you.
Customised market information and analysis.
Already registered for myMLA?