Korean beef safeguard
28 August 2018
Australian beef exports to Korea have been strong so far this year but may be reined-in once safeguard* is triggered.
Under the Korea-Australia FTA (KAFTA), Australia has expanding safeguard access to the market, before the volume restricting barrier is removed by 2028. So far, Australia has triggered safeguard each year since KAFTA came into force and each year the trigger date has crept forward despite volume restrictions increasing.
Already at 83% utilisation, Australia's safeguard will likely be triggered in October (it was triggered late November in 2015 and mid-October in 2016 and 2017). Australia's market share has been overtaken by the US (which has a larger and underutilised safeguard) in the months post-trigger. Across November-December over the last two years, the US share of the imported beef market has averaged 54%, compared to 43% during the other months of the year.
How may this unfold?
Imports of Australian beef incur a 26.6% within-safeguard tariff, which increases to 40% once triggered. In comparison, imports from the US incur a 21.3% within-safeguard tariff (they signed their FTA and received tariff reductions two years earlier) – which means the tariff differential will expand from 5.3% to 18.7% once Australia triggers safeguard.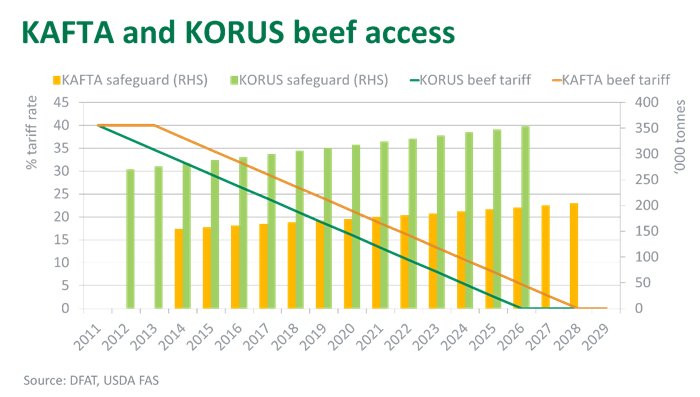 Australia's access to Korea may be restricted at a time when drought-induced female slaughter and record numbers on feed will keep beef supplies elevated. Moreover, beef supplies in the US continue to expand, with the USDA forecasting December quarter beef production to increase by 4.8% year-on-year, creating additional competitive pressure in the market.
Orders from Korea will pick towards the end of the year when sea freight timing will allow product to clear customs in 2019, however the trade may slow for a month or two as the tariff differential expands and US competition ramps up. This was evident in Australian beef exports in October last year, which contracted 18% on the month prior before picking up towards the end of the year.
Following the safeguard trigger, some product has the ability to be diverted to other markets but will be limited by in-market brands and Australian exporter loyalty to long standing-customers. In the final quarter of 2017, there was a noticeable pivot of lower value cuts, namely manufacturing beef and silverside, to China and other markets in the region.
Looking ahead, the 2019 safeguard will expand 3,300 tonnes to 170,700 tonnes swt but, more importantly, the out-of-safeguard tariff will drop from 40% to 30% for the next 5 years, giving the trade further breathing room.
*Safeguards are measures whereby a country can impose temporary emergency actions in response to increased imports of a particular product. They are designed to prevent serious harm to a country's domestic industry from a surge in imports and allow the local industry time to adapt to global market forces. Safeguard measures may take the form of a suspension of concessions or obligations, and quantity restrictions or additional duties may be imposed.
Join myMLA today
One username and password for key integrity and information Systems (LPA/NVD, NLIS, MSA & LDL).
A personalised online dashboard that provides news, weather, events and R&D tools relevant to you.
Customised market information and analysis.
Already registered for myMLA?