Learning about legumes
07 June 2017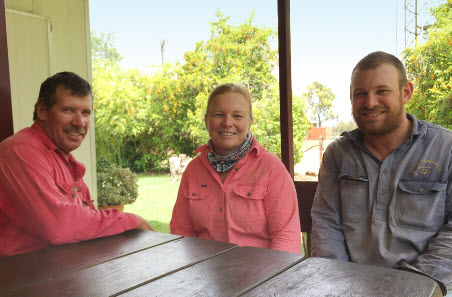 Peter and Bev Quinn and their son Matthew run 7,400 Charbray, Brahman and Charolais cattle on 34,000ha spread over two properties at Middlemount and 130km south of Charters Towers in Queensland.
The family has steadily built up their enterprise over 40 years, having started out farming with an undeveloped block. Peter and Bev Quinn have focused on pasture improvement since the early days, as a means to lifting productivity and improving the soil quality in cleared country.
After pulling the country (removing shrubs and trees with chains pulled by bulldozers), Peter said he knew they needed to replace the naturally occurring nitrogen.
"I had seen what had happened to some country 30–40 years after clearing where there was no (soil health or pasture) improvement," he said.
"I have tried every legume since I started blade ploughing in the mid '90s. I knew if we could get good legume establishment it would benefit beef production and profitability."
Blade ploughing involves pulling a single-tyne plough with a bulldozer to clear shrubs and groundcover while sowing improved pastures in a single pass.
Peter said the heavier clay soils on his property had limited the success of stylos, but he'd had good results with butterfly pea, especially on 'Taemas'.
"The butterfly pea there is six to eight years old and still producing prolifically, even after the tough seasons we've had," he said.
"Its persistence has surprised me. It's totally palatable and the cattle love it."
Despite problems in obtaining sufficient quantities of seed, Peter introduced desmanthus when it became available in the early 1990s.
"Desmanthus was hard to get then as it was new and it was super expensive. But where it was sown, it is still going really well."
Four years ago, Peter began growing Progardes, a blend of superior desmanthus lines. Having had success with desmanthus, he knew the new product would persist and that the cattle liked it.
"The newer varieties are a bit more drought tolerant," he said.
"Where we've fluked a bit of rain on them over a couple of seasons, it's been impressive. It grows well and recovers from dry weather."
However, growing legumes on this country remains challenging, and information on establishment is scarce.
"Establishment is an issue – that's our biggest battle on unprepared ground," Peter said.
"The seed is tiny and the expense to do it (prepare soil) properly is limiting."
Peter said he wanted to see more research relevant to the rough, blade-ploughed country that many Queensland beef producers are working with.
"The majority of the trial work on legumes is done on ex-cultivation country, but that is not representative of our situation. The real deal is in the rough country," he said.
Information:
Peter Quinn
E: pbquinn@bigpond.com
This story and another feature on legumes first appeared on pages 26-29 of the May/June 2017 edition of Feedback magazine www.mla.com.au/feedback
For more information on legume establishment go to www.futurebeef.com.au and search 'sown pasture rundown' and 'legumes'.
Join myMLA today
One username and password for key integrity and information Systems (LPA/NVD, NLIS, MSA & LDL).
A personalised online dashboard that provides news, weather, events and R&D tools relevant to you.
Customised market information and analysis.
Already registered for myMLA?