Low-stress handling key to eating quality success
13 December 2017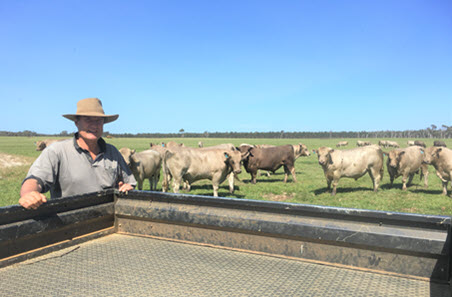 Following low-stress handling principles has helped beef producer Richard Metcalfe to achieve an average MSA compliance rate of almost 98% over the past 12 months.
Richard, who became MSA-registered in 1999, runs about 1,600 predominantly Murray Grey breeders on his 4,000ha property at Manypeaks on the south-west coast of WA.
The property turns off 500 head/year for Woolworths supermarkets and are grassfed. The cattle are supplemented with silage in the autumn months after weaning.
"At the moment, we're aiming for dressed weights of 220–320kg and fat depths of 3–18mm," Richard said.
Attention to detail
In the past year, the herd has achieved an average MSA Index of 60.74, well above the national average of 57.90, and has maintained a non-compliance rate of just 2.39% – almost 4% below the national average of 6.09%.
The strong MSA results are no coincidence, with the second generation producer committed to following MSA low-stress handling principles.
"We're meticulous about dark cutters because, financially, they're a big loss. We take every step we can to minimise stress," Richard said.
"We don't mingle cattle within two weeks of departure and ensure that they have access to good hay and water for the 12 hours before transportation."
Richard said becoming MSA-registered provided him with the right tools and information to make those decisions.
"We always knew it was important to provide good quality, consistent nutrition in the lead-up to slaughter, but through MSA, we learnt the importance of low-stress handling and not mixing animals in the days before departure," he said.
"The feedback we get being an MSA producer helps us keep on top of compliance issues so we can work out what the problem was, and how to fix it."
Benefiting the whole supply chain
"We registered with MSA from the very beginning of the program because it enabled us to supply into more markets and attract a better price than we otherwise would have been able to," Richard said.
"In the bigger picture, you're providing a better product to the market which gives the consumer a better eating experience, so they'll hopefully come back and buy beef again."
More information
To find out more about Meat Standards Australia, head to: mla.com.au/msa.
To predict the potential impact of production changes on your MSA Index, visit the MSA Index calculator at mla.com.au/tools.
Join myMLA today
One username and password for key integrity and information Systems (LPA/NVD, NLIS, MSA & LDL).
A personalised online dashboard that provides news, weather, events and R&D tools relevant to you.
Customised market information and analysis.
Already registered for myMLA?