Low-stress handling underpins top MSA results
20 September 2017
For Victorian lot feeder David Gillett, the key to producing the best eating quality beef lies in the low-stress handling of cattle in his family's 7000-head Jalna feedlot at Anakie, near Geelong.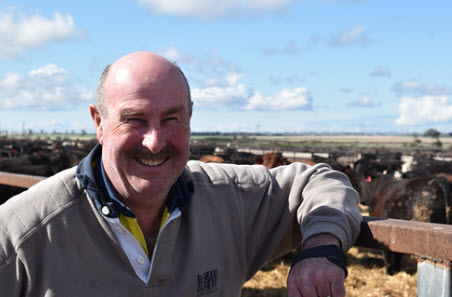 But handling is just one of the factors David considers in the commitment to the Meat Standards Australia (MSA) program, introduced to his business eight years ago when he was contracted to supply Coles supermarkets.
Last night, David won the 2017 MSA Excellence in Eating Quality Most Outstanding Beef Producer – Grainfed award for Victoria, presented at Lardner Park. (Click here for more details about the Victoria MSA Awards)
The Excellence in Eating Quality Awards for Grainfed producers recognise feedlots that have produced cattle eligible for Australian Grainfed Beef Standards and have high compliance rates to the MSA minimum requirements and consistently high eating quality performance – as determined by the MSA Index – for cattle consigned during 2015-16 and 2016-17 in each State and Territory.
David said while stress has a big influence on beef eating quality, it's just one link in a whole circle of factors that contribute to the overall end product.
"MSA grading is also about acclimation, nutrition, transport, staff and facilities, and simple things like making sure that water troughs are clean and feed is sufficient," David said.
Nevertheless this fifth generation farmer, whose feedlot was registered in 1969 and whose son is the sixth generation Gillett to work in agriculture, acknowledges the benefits of changing the way they handled cattle on feed.
"Our MSA figures showed how stress in cattle had a direct correlation with meat colour and pH levels. If you've got cattle that want to run or spook easily, the pH levels go up very quickly, and that can make for tough beef," David said.
"In the early days, pen riding at Jalna was done on foot or by motorbike but now we are 100% on horseback, and the cattle quieten down very quickly with calm handling.
"It's also a case of being aware of the impact of stress - for example, choosing the coolest time of the day to load out in summer, so that there is time to walk the cattle up to the yard slowly for their 45-minute trip to the works."
The combination of introducing horses, re-designing feedlot facilities and continual education of staff has resulted in incremental gains that show up in the MSA data.
Jalna delivers 70-day trade cattle that are a combination of British breeds and crosses, and 100-day custom fed Angus steers for the Coles Finest brand.
David said the MSA performance results are also used to select and inform the regular suppliers of cattle to the feedlot. They come from an area covering Gippsland in the east, the Riverina region of southern NSW and along the Murray River, across to western Victoria and into South Australia.
"By integrating MSA data with the performance of cattle in the feedlot, we can feed information back to the producer that his cattle are making the weight gains and producing top quality meat," he said.
"This is critical because if you don't start with the right animal in feedlot, you won't get the meat quality at the other end."
David's a firm believer in building relationships with every company in the feedlot supply chain, and said it's important that each link be able to make a profit and have confidence in the next.
"We have two or three companies that supply grain and supplements and we do some direct buying of grain off farmers, and we have a nutritionist, Dr John Doyle from Toowoomba who visits monthly to design rations, and a consulting vet from Southern Cross Vet Services at Cohuna," David said.
"Both men do a lot of training with our staff – we have 14 staff between the farm and the feedlot – and we are continually upgrading our knowledge of animal welfare and pen riding techniques with Dr Kevin Sullivan, an expert on low stress and acclimation."
David attributes much of the feedlot's success to his staff, two of whom have worked with the Gillett family for four generations.
The family also crops 4300 hectares of canola, wheat and barley, and bale the cereal straw for use as roughage in the feedlot. In a normal year they average 4500 to 5000 bales, but after an exceptional season last year they baled 14,000, which will be a fodder reserve for three to four years.
While the Gilletts aim to produce milling wheat and malting barley, they retain the option to use the grain in the feedlot, depending on price differential and transport costs.
After last year's bumper grain harvest, they chose to value add 9000 tonnes of barley through the feedlot for a $25-$30/tonne profit, David said.
The next innovation for the feedlot is the construction of a roof that will cover 1800 head of cattle, with the aim of reducing the effect of muddy winters that cause the hair of the southern cattle to become matted and be problematic during processing.
The roof was made possible by a $500,000 grant from the Coles Nurture Fund, and David said it will reduce the cost and stress of washing the cattle as well as improve weight gains.
"For the last 30 days of the feeding period, cattle will rotate through the roofed pens and be on a woodchip base, so in the clean, dry environment the dags and dirt will fall off," he said.
"We're also expecting a jump in weight gain and a reduction in the feed requirement they'd usually require to keep warm."
There are other benefits to flow from the roof – with a long term average winter rainfall of around 480mm, David anticipates harvesting 5 million litres of drinking water for use in the feedlot.
The roof construction should be completed by November and stocking levels will be adjusted while the pens are shut off and double feeding bunks installed.
David said MSA is a key factor in his feedlot's success, and he advises other producers to "get on board".
"What you get out of it will be different for individual operators, but there's a lot of information and feedback data that's useful to everyone involved with livestock and it's not challenging to be involved with," David said.
"It certainly helps to constantly review your practices and I encourage everyone in the industry to get involved."
For more information about the MSA system, visit: www.mla.com.au/msa
To look at your own carcase feedback and use the MSA Index calculator, visit: www.mymsa.com.au
Join myMLA today
One username and password for key integrity and information Systems (LPA/NVD, NLIS, MSA & LDL).
A personalised online dashboard that provides news, weather, events and R&D tools relevant to you.
Customised market information and analysis.
Already registered for myMLA?