Made to measure - finding the right genetics for the job
16 October 2015
Kangaroo Island sheep breeder Jamie Heinrich is both a stud owner and commercial wool and prime lamb producer. With a foot in each camp, he understands the full spectrum of industry demands - from sourcing the latest genetics and leading trends to the commercial reality of producing sheep that pay.
The Heinrichs' 'Ella Matta' White Suffolk and Poll Merino studs are tucked away on Kangaroo Island, but in no way are they shielded from industry scrutiny.
"All our stud animals are recorded on LAMBPLAN and MERINOSELECT and benchmarked regularly through the year on key traits to check our flocks are heading in the right direction," Jamie said.
Their commercial flocks are the proving ground where genetic selection decisions are put to the test.
For Jamie, a commercially productive White Suffolk should have a good balance of growth traits and lambing ease.
"We focus on Australian Sheep Breeding Values (ASBVs) for growth, muscle, birthweight and number of lambs weaned," he said.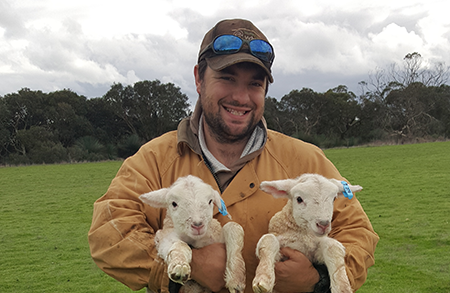 Their target market for prime lambs, White Suffolk–Poll Merino cross, is direct to processors at 22kg dressed. At the stud level, Jamie is pushing birth weight ASBVs, aiming to keep their rams below 0.4 to ensure lambing ease.
Getting the genes
All outside White Suffolk genetics are sourced through artificial insemination (AI) from sires evaluated in LAMBPLAN with the occasional outside breed infused to boost genetic variability.
New Poll Merino sires are introduced through AI using MERINOSELECT with particular emphasis placed on fleece weight, carcase traits (particularly muscle and fat), wool traits such as micron (about 18.5), staple strength, staple length, minimal co-efficient variance and worm resistance.
"Fat and muscle are important; they help to lift 'doing' ability and lambing percentages, particularly in tough years, and they are traits that pay dividends at point of sale," Jamie said.
"Wool traits are important because they're the profit drivers. We also consider wrinkle score and bare breach to minimise flystrike and worm resistance, which all help lower costs of production."
The next frontier for Ella Matta is genomics, or DNA testing, and Jamie is using the tests on his White Suffolks to measure eating quality, shear force and intramuscular fat.
"We're also looking at using it on our best ewe lambs to identify our top genetics much earlier and to identify candidates for embryo transfer," he said.
On-farm reality
For commercial producers looking to get the best out of their flocks, Jamie
recommended using genetic information and benchmarking services such LAMBPLAN, MERINOSELECT and Dohne Merino.
He stressed genetic selection must be supported by rigorous visual assessment to ensure animals are well conformed and structurally sound.
To assess how your sire choices are influencing production, Jamie's advice was to measure what you can.
"For terminals, collecting weaning and post weaning weights will help you compare average growth rates of your flock, year-on-year," he said.
"For wool production, record fleece weights, micron, fleece staple length and strength and co-efficient variance. Building a record of performance will give you a clear indication of whether your breeding objectives are being achieved."
Jamie also recommended all sheep producers carry out mob worm tests, rather than rely on visual assessment.
Jamie's top tips
Use industry resources to find the best genetics
Visual assessment is still important
Know which traits relate to your profit drivers
More information
Jamie Heinrich E: heinrich.jamie@gmail.com
Join myMLA today
One username and password for key integrity and information Systems (LPA/NVD, NLIS, MSA & LDL).
A personalised online dashboard that provides news, weather, events and R&D tools relevant to you.
Customised market information and analysis.
Already registered for myMLA?