Make sure your sheep have happy feet
24 May 2017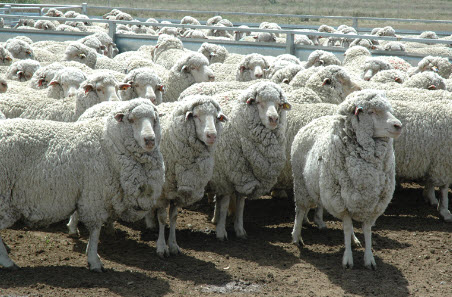 Foot health is essential to the wellbeing of sheep. Sore or diseased feet can result in lameness which can severely affect sheep productivity. Signs of lameness can be obvious or very subtle.
Watch for:
weight not borne evenly on all legs
obvious discomfort when moving or standing
uneven posture, even without obvious shortening of stride
uneven stride or short steps
head bobbing in time with the short stride and the shoulder may also drop
excessive flicking of the head
refusal to walk or to stand
bunny hopping or taking pressure off sore front feet by hopping on back feet (eg toe abscesses)
carrying one leg when standing or walking.
Tips for good feet management include:
understand the normal shape of the sheep's foot and how to pare (trim) feet
promptly inspect the feet of any sheep that are lame and take appropriate action
prior to purchasing sheep always inspect the feet of as many of the sheep as possible and request a fully completed National Sheep Health Statement/valid footrot vendor declaration. Consider holding introduced sheep in a quarantine paddock and assess their feet after exposure to soil moisture.
inspect rams' feet prior to purchase, and at least eight weeks before joining. Pare to the normal shape if required
avoiding over trimming feet. Over trimming can cause bleeding and pain and can lead to the formation of toe granulomas
after paring, observe sheep for lameness and bleeding. Keep any lame sheep or sheep with bleeding feet in a holding paddock with feed, water and shelter until they have recovered.
Tools and resources for sheep producers
Learn what foot abscess looks like and the signs to watch out for in this NSW Department of Primary Industries Primefact on foot abscess

MLA's Sheep Husbandry Guide offers a wealth of information on good sheep management including a chapter on foot care.
If you suspect your sheep have footrot seek veterinary and professional advice. Sheep Connect Tasmania's Footrot Ute Guide is a useful tool for identifying footrot.
Good on-farm biosecurity practices improve sheep health outcomes. Learn more at the Farm Biosecurity website.
Join myMLA today
One username and password for key integrity and information Systems (LPA/NVD, NLIS, MSA & LDL).
A personalised online dashboard that provides news, weather, events and R&D tools relevant to you.
Customised market information and analysis.
Already registered for myMLA?