Making plans
18 November 2016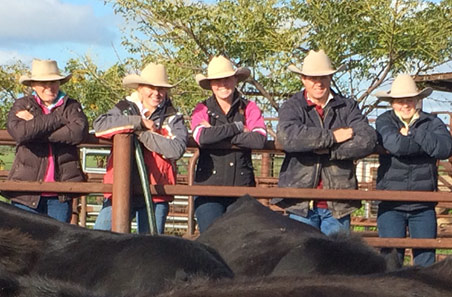 Western Riverina cattle producers Jim and Jane Ives have identified sustainability as their most important goal and are tackling it head on.
"Our business goals moving forward are to remain sustainable from a production point of view, but to also set up our business for the next generation," Jim said.
The couple credit participation in the MLA/Australian Wool Innovation Pastoral Profit program with challenging them to move their business forward for future sustainability.
Responding to the dry
Jim said one of the biggest challenges facing producers in the pastoral zone has been the run of dry years. Hay, traditionally, has an annual rainfall of 350mm, but the Ives received less than 315mm/year for the past 22 years.
The Ives run 500 Angus breeders on 10,000ha south-east of Hay in NSW. They spent the past decade developing a holistic rotational grazing system, and now graze cattle on perennial native pastures at a stocking rate of one DSE/ha.
Depending on the season, they either send stock at 500-650kg liveweight through JBS's grassfed assured program or at 450-500kg to feedlots.
During the dry years the family relied on droving cattle and agistment spread from south-west Queensland to southern Victoria to maintain productivity.
Renewed focus
After receiving good rainfall in 2016 their enterprise is on-track from a productivity perspective, and Jim and Jane have turned their attention to the sustainability of their business with their three daughters in mind. Emily and Lillian are in year 11 and 9, while Grace is studying agribusiness at Marcus Oldham College.
"The girls have all been very involved in livestock management but they are starting to take an interest in the financial side of the business.
"We encourage our daughters to study and work off-farm to gain new experiences – which could be brought into the business – but we want structures in place so they can come back into the business if they want to."
Inspired by past experience with MLA business webinars, the Ives and nine local families got together and formed a Pastoral Profit group, with assistance from Dubbo-based Pastoral Profit NSW coordinator Mark Gardner.
"Pastoral Profit has really motivated us to streamline and improve our business, especially from a financial perspective," Jim said.
"It has also given us access to information and advice which can be challenging for us to find, because of poor internet service."
Business changes
They have already made changes to their business as a result, which include:
A full review of their business structure to improve farm succession planning.
Meeting with their accountant regularly to conduct business planning, not just taxation planning.
Introducing business benchmarking (the NSW Pastoral Profit program is also seeking to establish a benchmarking component).
Involving their children in discussions about business and succession planning (Grace Ives attended one of the Pastoral Profit sessions).
Using tools from Pastoral Profit to examine risk assessment of various expansion options, such as buying land in a different climatic zone or utilising irrigation country currently owned.
Lessons learned:
Plan, plan and keep planning – especially for big things like capital expenditure and succession planning.
Involve all family members in decision making.
Involve advisors such as financial planners, accountants, and solicitors in regular business planning.
Information:
Jane and Jim Ives E: jives@activ8.net.au
Mark Gardner, Vanguard Business Services, Dubbo: mark.gardner@vbs.net.au
Pastoral Profit webinars: http://www.mla.com.au/Extension-training-and-tools/Pastoral-Profit
Join myMLA today
One username and password for key integrity and information Systems (LPA/NVD, NLIS, MSA & LDL).
A personalised online dashboard that provides news, weather, events and R&D tools relevant to you.
Customised market information and analysis.
Already registered for myMLA?