Making sure the pastures fit
31 May 2018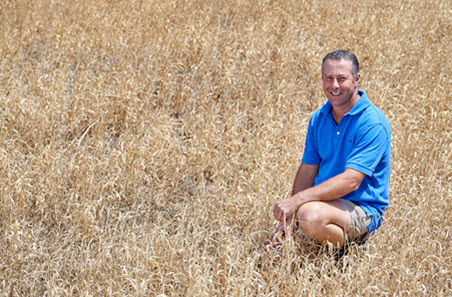 Pasture variety selections are a big-picture consideration, according to Matt Kindred.
"I like to think of each paddock having a specific job, but they all need to complement each other," he said.
"With establishment costs of about $300–$400/ha, you want to be as sure as you can about your choices."
Focus on the end goal
Matt runs 5,000 sheep on 1,000ha at Stawell in Victoria in a 500mm rainfall zone. Pastures on the property are a mix of phalaris, sub-clovers, cocksfoot, ryegrass and natives and annuals.
Matt, a member of western Victoria's Perennial Pasture Systems producer group, starts the selection process with the end goal in mind.
"Everything in a farm system is interrelated," he said.
"You need to consider soil types, fertility, paddock size and use, feed demands, market choices and your long-term pasture goals."
Providing results
Through his MLA-supported pasture group, Matt has access to numerous pasture trial results, some of which are now included in the new MLA-supported Pasture Trial Network (PTN) tool.
The PTN tool is an independent online resource for producers compiled by an industry-wide alliance. MLA Donor Company, every major pasture seed company in Australia, the Australian seed Federation, producers and state government departments have all had input into producing this rigorous assessment of how our most common pasture varieties perform across different temperate regions.
"It's a great guide, user-friendly and I like the way it's zoned," he said.
"I'll be consulting it, but we are fortunate with the group, we're doing five to six local trials a year and nothing beats the informative value of trials so close to home."
Pasture challenges
Matt's farm has its challenges. While 75–80% of it is suited to phalaris, cocksfoot and sub-clovers, he has another block near the Grampians in a higher rainfall zone (600mm) with free-draining, high nutrient-leaching soils.
"I've struggled to find pastures that will fit there," he said.
"I don't want to lose the native pastures, they're very hard to get back. I'm thinking possibly a kikuyu (variety) which are more common in WA."
Matt said the past decade has presented some challenging environmental conditions, and some areas require renovation.
Different solutions for different pastures
"I put about 20% of the property into a cropping rotation for grain and hay to feed our sheep, and use this to improve the soil fertility and reduce the weed burden before the area is sown down to a perennial pasture," he said.
"My high-production paddocks sown each year tend to be a short-term ryegrass or arrowleaf clover set up for a specific job, for example, Merino lamb weaning or prime lamb finishing.
"For a longer-term outlook (20-plus years), I sow a phalaris/sub-clover paddock each year with the aim of increasing pasture production and stocking rate, and I always make sure I have paddocks that are free of grass seed."
Lessons learned
Everything in the farm system is interrelated and pasture choices need to reflect long-term goals.
Information from local pasture trials is invaluable.
Every paddock should have a job to do in terms of contributing to the farm enterprise.
More information
Pasture Trial Network
Email Matt Kindred
Join myMLA today
One username and password for key integrity and information Systems (LPA/NVD, NLIS, MSA & LDL).
A personalised online dashboard that provides news, weather, events and R&D tools relevant to you.
Customised market information and analysis.
Already registered for myMLA?