Market opportunities in Hong Kong
11 July 2017
Hong Kong is a unique market for global red meat trade as MLA's recent Hong Kong Market Snapshot explores.
Trade flows
The bulk of Hong Kong's significant import volumes of frozen red meat and offal are not consumed locally but re-exported to other countries in the region.
To illustrate, in 2016 Hong Kong imported 350,998 tonnes swt of frozen beef, with over half (56%) supplied by Brazil, followed by the US (27%), and Australia supplying a small quantity (1,219 tonnes swt).
In the same year, Hong Kong imported 271,438 tonnes of frozen bovine offal, mostly (57%) from Brazil.
Hong Kong's frozen sheepmeat imports, mostly mutton, peaked at over 21,000 tonnes swt in 2010, with the bulk coming from New Zealand and Australia.
Australian red meat in Hong Kong
For Australia, Hong Kong is a niche market, with a focus on servicing demand for premium chilled beef and lamb in the high-end retail and foodservice sectors. In these sectors, Australia is a key supplier.
Australian red meat is highly regarded by Hong Kong consumers who are aware of and have enjoyed it, offering strengths in trust, quality and safety.
MLA works closely with Australian exporters in the Hong Kong market, supporting marketing activities.
Chilled beef and offal
In 2016, Hong Kong imported 7,949 tonnes of chilled beef, valued at more than A$182 million, with Australia the largest supplier (46% volume share), followed by the US (29%) and Brazil (10%).
In 2016, Hong Kong was Australia's eighth largest chilled beef export market by value, and comprised 82% of the value of our total beef exports to this market. Unit prices averaged 80% higher to this market than the average of Australia's total chilled beef exports.
Demand has grown over time, with Australia's chilled beef exports to Hong Kong doubling in volume over the past 10 years.
In 2016, Australia exported 130 tonnes of chilled beef offal to Hong Kong, commanding an average unit price 11% higher than the total of Australia's chilled bovine offal exports.
Chilled lamb
Australia has long been the leading supplier of chilled lamb to Hong Kong, exporting 317 tonnes in 2016 representing a volume share of 88%, followed by France (6%).
Whilst Hong Kong was Australia's sixteenth largest chilled lamb export market by volume and value in 2016, unit prices earned were 40% higher than the average of Australia's total chilled lamb exports.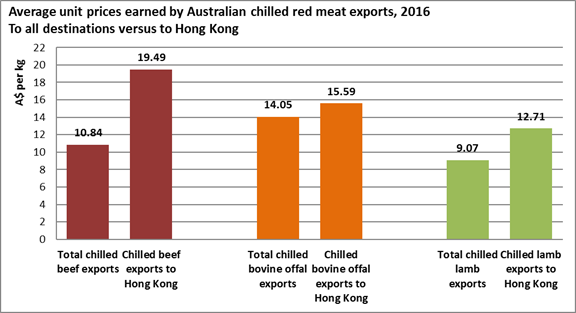 More information
Download MLA's latest Market Snapshot on Hong Kong
Join myMLA today
One username and password for key integrity and information Systems (LPA/NVD, NLIS, MSA & LDL).
A personalised online dashboard that provides news, weather, events and R&D tools relevant to you.
Customised market information and analysis.
Already registered for myMLA?