MLA and Ruralco aerial drone innovation farming partnership
02 August 2017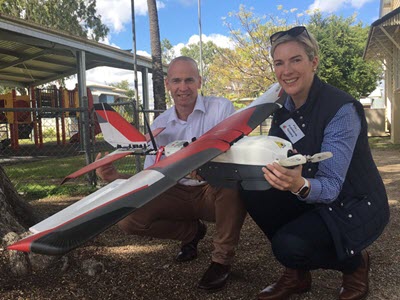 Meat & Livestock Australia (MLA) and Ruralco Holdings Ltd (Ruralco) today launched a new innovation partnership that will see the organisations refine new approaches to monitoring and maintaining pasture and herds through aerial drones.
Announcing the partnership at the MLA BeefUp event in Nebo, Queensland, the new project, delivered by MLA Donor Company (MDC) will engage directly with producers to develop an aerial drone strategy for the benefit of the red meat and livestock industry.
The project will also map the current use of aerial drones and identify the future development needs around how aerial drones can be used more effectively on-farm.
MLA and Ruralco Queensland are reaching out locally to engage producers in the discussion around research and development (R&D) to drive beneficial outcomes for producers and their businesses. The collaboration will focus on developing Australian-specific insights and unique algorithms for livestock producers with Ruralco's partner PrecisionHawk, the leading drone, data collection and analytics company in the United States.
Initially running for 12 months, the project will engage with producers and rural communities through a series of hands-on demonstrations showing the current capabilities of aerial drone technologies.
MLA General Manager – Research, Development & Innovation, Sean Starling, said the new partnership with Ruralco is the first step in developing a broader land and aerial drone strategy across the red meat industry, as part of MLA's Digital Value Chain Strategy for the red meat and livestock industry.
Mr Starling said direct feedback from producers will also assist in identifying commercial opportunities for aerial drones and pin-pointing technology gaps that currently exist.
"As an industry it's important we embrace technology to ensure we get the best from the land and integrate the best surveillance techniques of our flocks and herds," Mr Starling said.
"By engaging producers directly with hands-on demonstrations and using a 'design led' approach to the development of new technology we are hoping we can ensure quicker and more effective adoption of technology that assists the whole industry."
Ruralco CEO and Managing Director, Travis Dillon, said drone technology was facilitating data-driven decision making in agriculture.
"Farmers can better analyse issues which affect productivity and sustainability such as effective nutrient delivery, livestock health, and combat biosecurity issues," Mr Dillon said.
"Together, Ruralco and MLA are well positioned to deliver innovative technology through Ruralco's national outlets. With PrecisionHawk we will be able to access the latest farmer-friendly apps used to analyse agricultural data as used in the USA, South America and Europe.
"Agriculture in Australia is a sector that has always embraced innovation, and is worth more than $50 billion and grew by $3.1 billion in 2015-16."
Photo courtesy of Lara Webster from ABC Tropical North.
Join myMLA today
One username and password for key integrity and information Systems (LPA/NVD, NLIS, MSA & LDL).
A personalised online dashboard that provides news, weather, events and R&D tools relevant to you.
Customised market information and analysis.
Already registered for myMLA?