MLA launches action plan for pasture dieback in Central Qld
27 April 2017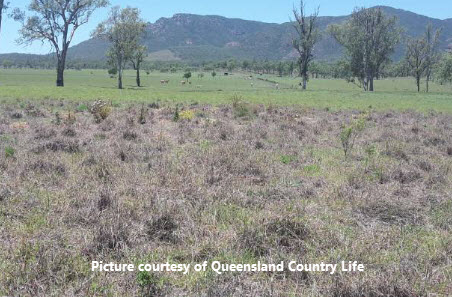 Meat & Livestock Australia (MLA) has announced an action plan to map and address recent pasture dieback across many parts of Central Queensland and the South Burnett region.
The plan brings together producers, researchers and experts to better understand the extent of the pasture dieback and to find both short and long-term solutions.
Over recent months, producers across Central Queensland have reported widespread dieback of pastures including buffel grass, as well as native bluegrass in the Wide Bay Burnett region.
Click here to take the Pasture Dieback Survey
In consultation with producers, solution providers and researchers, MLA has developed an action plan which includes:
Understanding the spread and extent of the dieback. MLA will engage a drone and image analysis company to aerial map the affected areas once a month for 12 months to monitor the spread/abatement of dieback. MLA will then add this imagery to 20-plus years of satellite imagery to enable an historic lookback at the issue, through the pending "FarmMap" project.
Ascertain what short-term measures can be deployed to reduce, and ideally halt, the spread of the dieback. This includes engaging global chemical suppliers with a list of fungicides that have been tried on the dieback with little to no effect, and see if anything else is on the market to trial.
Undertake activities to understand what has caused this onset. MLA will commence an intensive (up to six months) soil and pasture sampling and testing regime to understand the cause(s).
Expert panels to guide the research and response, including:

Forming a short-term producer panel/group to provide data, information and first hand stories; guide the problem solving activities; and assess the robustness of any identified solutions.
Forming an expert panel of 'scientists' for the next six months to assess the issue.
MLA's General Manager Research, Development & Innovation, Sean Starling, said the multi-pronged approach would assist the industry and researchers in understanding the spread of the problem to enable short and longer term solutions to be developed.
"In addition to having engaged researches to undertake additional testing, and solution providers to utilise ready to deploy sprays, MLA is focussed on understanding the extent of the problem," Mr Starling said.
"If you are a producer who is currently experiencing pasture dieback, whether buffel grass or bluegrass, then we would like to record your loss, map the area with your permission, and engage you in trying to fix the problem.
"MLA's action plan is in response to growing producer concern about the extent of the problem in recent months – and will ensure that producers work with researchers and solution providers to understand and address the dieback issues."
Producers in Central Queensland and the South Burnett region experiencing pasture dieback and willing to assist MLA should complete our Pasture Dieback Survey.
Click here to take the Pasture Dieback Survey
Join myMLA today
One username and password for key integrity and information Systems (LPA/NVD, NLIS, MSA & LDL).
A personalised online dashboard that provides news, weather, events and R&D tools relevant to you.
Customised market information and analysis.
Already registered for myMLA?