MLA's 2017 hottest hits
14 December 2017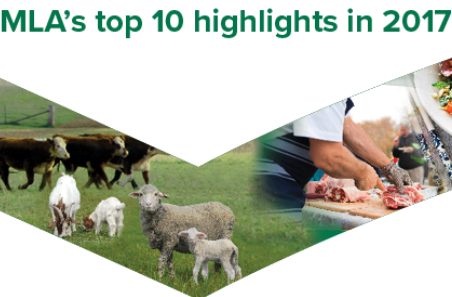 It was another big year for MLA. Here's the highlights of 2017, which included new projects to take on challenges affecting producers like supply chain efficiencies, animal welfare, reducing carbon emissions and lifting feedbase productivity.
1. Responding to producer challenges: Twelve new on farm research, development and adoption projects to tackle big issues such as improving lamb weaning rates and lifting beef performance via the feedbase received a total of $9.4 million in funding. The projects were developed through the producer and industry consultation model.
2. Going neutral: MLA Managing Director Richard Norton announced a new program to help Australia's red meat industry become carbon neutral by 2030 in his address to Red Meat 2017. It was just one of the highlights of an action-packed program at Alice Springs. Didn't get there? Check out the videos and presentations here.
3. Strengthening our integrity: Australia's world leading red meat integrity system was enhanced and strengthened through significant upgrades to the Livestock Production Assurance (LPA) program. Get up to date here.
4. Pastures to pick from: Producers now have the Pasture Trial Network, an online tool supported by MLA to help assess and compare the performance of more than 100 pasture varieties across key species.
5. Eating excellence: The 2017 Meat Standards Australia Excellence in Eating Quality Awards revealed the key factors to delivering consistently compliant cattle in a range of environments. Hear from the winners on how they did it in this series of videos.
6. Putting welfare first: In one of the largest red meat industry projects to date, MLA will partner with research organisations around Australia to deliver solutions to improve welfare outcomes in the $35 million Strategic Partnership for Animal Welfare Research, Development and Adoption.
7. A personalised dashboard: myMLA, a new component of the MLA website, offers personalised, relevant content delivered straight to an online dashboard that is unique to each user. It provides a 7-day weather forecast based on your location, customised information from our Prices & Markets team, industry and market news and a single sign-on function for key integrity systems such as NLIS, LPA, NVDs and MSA.
8. Innovation generation: MLA Donor Company (MDC) launched the Producer Innovation Fast-Track - a mentoring and road testing program to support producers in the innovation sector.
9. DEXA delivery: Supply chain innovations, including new technologies such as DEXA to deliver accurate carcase data to all sectors, continue to be road tested by the red meat industry.
10. The campaign trail: New marketing programs were introduced to the domestic market including Australian Beef The Greatest and We love our Lamb to position Australian red meat as a product with high integrity and supreme quality.
Join myMLA today
One username and password for key integrity and information Systems (LPA/NVD, NLIS, MSA & LDL).
A personalised online dashboard that provides news, weather, events and R&D tools relevant to you.
Customised market information and analysis.
Already registered for myMLA?