MLA's annual Brussels BBQ promotes trade
19 July 2018
Following the recent official launch of Australia-European Union Free Trade Agreement (A-EU FTA) negotiations, Meat & Livestock Australia (MLA) hosted an Australian backyard barbecue in Brussels to celebrate the long awaited milestone and to continue to promote Australian red meat with EU decision-makers.
Almost 650 Europeans gathered to mark the occasion and enjoy some of Australia's premium quality beef and lamb prepared by MLA corporate chef Sam Burke, who coordinated a team of six chefs cooking across 18 BBQs to serve almost 4,000 mini dishes to the hungry guests.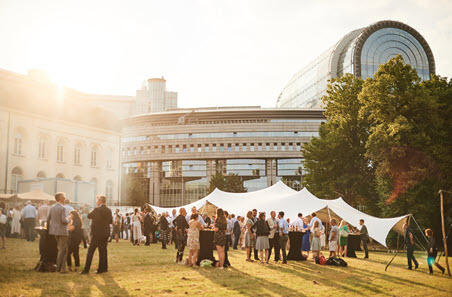 This year's BBQ menu was influenced by the food of our European ancestors with Mediterranean and Spanish tapas flavours, Brasserie style cooking and the traditional English Sunday roast used for inspiration.
This was MLA Europe's fourth annual BBQ and it has become one of the most popular functions on the Brussels corporate and social calendar.
The BBQ provides a key opportunity to engage with MLAs influential network of policymakers in the European Parliament and emphasise the need for strengthening of our trading relations. The BBQ attracted 12 Members of the European Parliament (MEPs) and their advisors, key trade and agriculture contacts, friends of the Australian embassy, European agricultural industry bodies and EU meat importers.
MLA Europe international business manager Josh Anderson said the BBQ had become an important fixture on the MLA Europe activity calendar especially this year, given the positive momentum around trade talks.
"The BBQ is not only a showcase of our high quality red meat that Australia wants to supply to Europe and a celebration of our farmers who produce it, but an important event promoting the merits of liberalised trade in Europe to a hugely influential crowd," he said.
"MLA has worked hard to build this network of contacts in Europe who are in encouragement of greater trade with Australia. The support shown at our event is a true reflection of our industry and government's ongoing activities in the market," Josh Anderson said.
Deputy Head of Mission to Belgium and Luxembourg and Permanent Mission to the EU and NATO, Helen Stylianou gave a speech in support of MLA's advocacy efforts in Brussels and the Australian red meat industry's pursuit of achieving enhanced trading conditions under a future FTA with the EU.
Ms Stylianou said the FTA signalled a positive step forward for Australia's agriculture industry, not only via the opportunity to help the EU with its imported red meat requirements, but also in securing improved access to the 500+ million strong EU consumer market.
The Australian Government estimated at the time of FTA launch that a trade agreement with the EU would open the door to a market of half a billion consumers and a GDP of US$17.3 trillion - making it one of Australia's biggest trade agreements once concluded.
Two-way trade in goods exceeded $68 billion in 2017. Yet while a lucrative market, the EU's continued protectionist stance towards agricultural imports has restricted Australia's ability to respond to market demands and these trading conditions have remained unchanged for 40 years.
The EU is Australia's second largest trading partner and third largest export destination and was the country's largest source of foreign investment in 2017.
Read the industry's response to the launch of the EU FTA negotiations
Read more about the role of the Australian industry EU-UK market access Taskforce
More information
Josh Anderson, MLA International Business Manager – Europe & Russia
Email Josh Anderson
Join myMLA today
One username and password for key integrity and information Systems (LPA/NVD, NLIS, MSA & LDL).
A personalised online dashboard that provides news, weather, events and R&D tools relevant to you.
Customised market information and analysis.
Already registered for myMLA?