MLA's lamb marketing campaign wins top gong for the third year in a row
04 July 2017
Meat & Livestock Australia's (MLA) lamb marketing has received another prestigious industry award. It comes as new figures show consumer demand for Australian lamb is staying strong.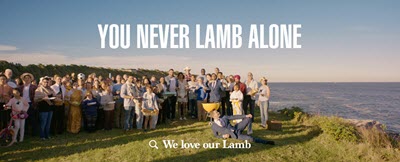 The 2016 Spring Lamb campaign, developed by The Monkeys, claimed 'TV Ad of the Year' at the recent Mumbrella Awards – the third year running MLA's lamb marketing has been awarded this accolade.
The prestigious and coveted Mumbrella Awards celebrate the best, bravest and brightest work across the media and marketing industries.
MLA's campaign utilised the established "You Never Lamb Alone" platform and highlighted the central role lamb plays in celebrating the face of modern Australia regardless of race, religion, gender, sexual orientation, age or ability.
The advertisement attracted 6.1 million views across multiple channels and was shared over 41 thousand times. Importantly, sales results during the campaign saw a 5.3% value share increase versus the prior four week period – while 48% of consumers agreed they are "more likely to eat Lamb" as a result of seeing the ad.
MLA Group Marketing Manager Andrew Howie said industry recognition for MLA's lamb marketing under the "You Never Lamb Alone" banner, and the diversity message of recent years, was made even more pleasing with the positive figures recently released around the volume and value of lamb sales.
Mr Howie said recent data showed the average volume sales of lamb for 2015 and 2016 were averaging higher than the previous five years – which had been relatively stable – while the domestic value of the lamb market had reached record highs in 2015 and 2016.
"While these awards are welcome, in an increasingly competitive domestic market, what matters most is driving demand and consumer preference for lamb in Australia and promoting returns for levy payers," Mr Howie said.
"The figures show that demand for lamb has increased in recent years and this increase runs parallel with MLA's most recent marketing activities.
"MLA's consistent marketing message around lamb has been it's the meat that brings Australians together – ensuring we are making lamb relevant to a diverse modern Australia."
Mr Howie said MLA received strong support from the sheep industry, particularly the Sheepmeat Council of Australia, which allowed it to deliver bold and effective marketing campaigns that sell more lamb.
"Our marketing campaigns are informed by consumer insights and data, as well as learnings from past campaigns – and we will continue to look for improvements across all aspects of our marketing business to create advertising that works and delivers results for producers and the industry," Mr Howie said.
To view the Spring Lamb advertisement click here.
Join myMLA today
One username and password for key integrity and information Systems (LPA/NVD, NLIS, MSA & LDL).
A personalised online dashboard that provides news, weather, events and R&D tools relevant to you.
Customised market information and analysis.
Already registered for myMLA?