MLA's Rare Medium relaunched for 2018
24 January 2018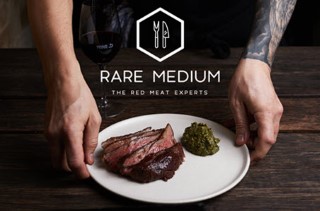 The Australian foodservice sector generated $45 billion in 2016, accounting for 50 million meals/week. It is crucial to the ongoing success of the red meat and livestock industry.
It's also one of the fastest changing food markets in the world – a hive of independent outlets with a unique capacity to offer a range of dining experiences. The culinary world is fast moving and transient, with trends coming and going overnight.
In this fiercely competitive industry, Meat & Livestock Australia's dedicated foodservice program, Rare Medium, seeks to ensure that beef and lamb remain relevant and retain their place on domestic foodservice menus.
Digital relaunch
Rare Medium has kicked off 2018 with the launch of two new digital resources for foodservice professionals – offering access to red meat knowledge from paddock-to-plate.
These new digital resources are designed to increase chef confidence and spark ingenuity, providing access to information through the supply chain focusing not just on cuts and how to cook them but also how those cuts were derived from the carcase and how the animal was raised and treated through each stage of production.

The new Rare Medium website provides chefs with access to whole carcase education for beef, lamb, goat and veal and includes complete beef and lamb carcase breakdown videos. It also provides clear and concise supply chain information, insights into production systems, dish inspirations from leading chefs and more.

E-magazine providing red meat inspiration for chefs

While the website functions as a hub for red meat education, the new seasonal e-magazine draws on industry innovation and culinary creativity to inspire chefs through timely, engaging and informative red meat content.
MLA Foodservice Program Manager Mary-Jane Morse says Rare Medium will put chefs front and centre in promoting red meat.

"Each issue of the e-magazine will focus on a specific protein and be co-edited with a different chef to explore seasonality from paddock-to-plate.
"We know that chefs learn from each other so leveraging the influence of successful chefs to help us tell the red meat story is a more effective way to resonate with this audience," she said.

Stepping out of the kitchen and up to the plate for the debut issue is three-time Good Food Guide's Chef of the year finalist Dave Verheul, from award-winning restaurants Embla and The Town Mouse in Melbourne.
Autumn Lamb 2018 showcases innovation on farm, rethinks cut usage, explores global use of Australian lamb and celebrates chef creativity through videos, animations and beautiful imagery.

Subscription to the e-magazine is free and content is designed for sharing – each issue will be promoted through social and digital media, targeting all levels of chefs.
Join myMLA today
One username and password for key integrity and information Systems (LPA/NVD, NLIS, MSA & LDL).
A personalised online dashboard that provides news, weather, events and R&D tools relevant to you.
Customised market information and analysis.
Already registered for myMLA?