MSA underpins brand integrity for Rangers Valley
06 October 2017
For Rangers Valley Managing Director Keith Howe, Meat Standards Australia (MSA) is the platform that underpins the company's world-famous beef brands and enables him to build stronger, long-term relationships with domestic and global customers.
Mr Howe said MSA's science and practices ensure the 'back end' of the supply chain produces a consistent and premium product, and that gives him the freedom to work on the 'front end' of the business. This includes customers in Australia and the 30 countries to which Rangers Valley's beef is exported.
In Australia, Rangers Valley supplies MSA-accredited Angus beef to the 'Coles Finest' program, turning off around 11,000 head annually for the brand from the company's base, north of Glen Innes in the New England region of NSW.
At Tamworth last night, Rangers Valley was awarded the 2017 MSA Excellence in Eating Quality Most Outstanding Beef Producer – Grainfed award for NSW.
The Excellence in Eating Quality Awards for Grainfed producers recognise feedlots that have produced cattle eligible for Australian Grainfed Beef Standards and have high compliance rates to the MSA minimum requirements and consistently high eating quality performance – as determined by the MSA Index – for cattle consigned during 2015-16 and 2016-17 in each State and Territory.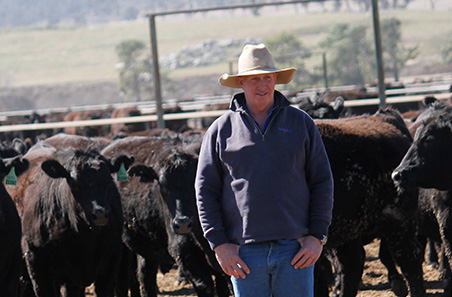 It is the second time Rangers Valley has won an MSA Award. In 2016, it was bestowed the 2016 NSW MSA Producer of the Year award at the inaugural MSA Excellence in Eating Quality Awards.
Mr Howe said Rangers Valley sourced young Angus cattle from breeders throughout New South Wales, Victoria and South Australia to go through the MSA program and supply the 'Coles Finest' brand.
"After being transported to Rangers Valley, the cattle are backgrounded in the feedlot's surrounding paddocks and depending on seasonal conditions, may be supplementary fed," Mr Howe said.
"The cattle are backgrounded for a minimum of three weeks as part of a pre-conditioning program allowing the cattle to settle, and very importantly, with their mob, before going into the feedlot to start their feeding term."
Low stress stock handling is key to Rangers Valley's success in consistently producing cattle with high compliance rates to MSA. Among the initiatives the company has undertaken to further enhance animal welfare and boost productivity is the installation of woodchip bedding in pens to boost the comfort of their long-fed cattle throughout the year.
"Our livestock procurement strategy is also an important factor in driving ongoing improvements into our MSA scores - working directly with our producer network focusing on a younger animal then our long-fed program," Mr Howe said.
"The cattle have well-bred genetics, good structural confirmation and body condition before they start their 100-day feeding term."
Mr Howe said the underpinning of the company's brands with MSA standards has been critical to building a platform that beef producers and companies can use to their advantage.
"MSA science has transformed meat grading and instigated good supply chain practices like breeding for temperament, low stress handling and welfare in the feedlot," Mr Howe said.
"All of these things are incremental in making up the eating quality of beef at the end.
"We work with very good producers to provide us with the genetics and deliver the cattle at the starting weight we require, when we want them. It takes a lot of collaboration."
Rangers Valley, which is owned by Japan's Marubeni Corporation, also exports grainfed Wagyu and Angus beef under its brands including Black Market, Black Onyx and WX to China, South Korea and European countries including France, Italy, Monaco, Switzerland and Finland.
Rangers Valley has approximately 40,000 cattle on feed, with 80% of those going to supply the export beef market.
For more information about the MSA system, visit: www.mla.com.au/msa
To look at your own carcase feedback and use the MSA Index calculator, visit: www.mymsa.com.au
Join myMLA today
One username and password for key integrity and information Systems (LPA/NVD, NLIS, MSA & LDL).
A personalised online dashboard that provides news, weather, events and R&D tools relevant to you.
Customised market information and analysis.
Already registered for myMLA?