Multi-breed tools level genetic fast-tracking fertility
08 February 2018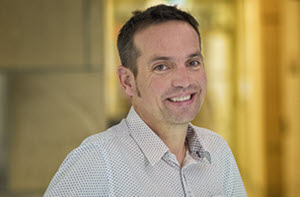 Researchers are honing in on bulls that will breed fertile females as one way to double the rate of genetic gain in the commercial beef industry.
Project leader Professor Ben Hayes, University of Queensland, will explain how DNA sampling 30,000 cows and heifers could improve the bottom line of northern beef businesses when he speaks at MLA's Livestock Breeding and Genetics Forum in Brisbane this month. It's just one area of game-changing research he will cover in his presentation.
Building genomic breeding value
Professor Hayes said the Northern Genomics Project could help fast-track genetic gain by delivering the genomic equivalent of an estimated breeding value (EBV).
"Fertility is the main driver of productivity and profitability of northern beef producers, but weaning rates – an indication of fertility – can be as low as 40% in some herds," he said.
"Lifting the reproductive performance of breeding herds is challenging for producers who manage extensive enterprises, as only handling animals once or twice a year limits the opportunity to track reproductive performance at key points in time.
"In five years' time, our aim is to have a highly accurate genomic breeding value for fertility, which producers can use when selecting bulls, to assess what animals will contribute genetically to their goal of higher weaning rates."
Multi-breed emphasis
This project is commercially-focused and aims to develop DNA tests that are not limited to a specific breed. Collaborating producers are providing females of different breed compositions – including cross-bred cattle – across Queensland, the NT and WA.
Researchers are currently DNA sampling and scanning these females to record the key fertility traits which are age of puberty (heifers that cycle early can produce more calves in their lifetime) and postpartum anoestrus, to determine how easily a cow can fall pregnant again after her first calf.
The Northern Genomics Project is led by the Queensland Alliance for Agriculture and Food Innovation (QAAFI) and funded by the MLA Donor Company (with investment matched by the Australian Government) and the University of Queensland.
Event details
MLA has organised the free, one-day forum on 21 February as part of a stakeholder engagement initiative of the National Livestock Genetics Consortium (NLGC).
The NLGC aims to deliver $400 million in industry improvements by doubling the rate of annual genetic gain in the commercial livestock industry value chain by 2022.
The Livestock Breeding and Genetics Forum is designed for all stakeholders in the livestock industry, including commercial and seedstock producers, extension and service providers, lot feeders, processors, brand owners, supply chain participants and the scientific community.
The forum will cover the latest genetics research and development investments, seek collaboration around livestock genetics adoption and gather feedback on future investment priorities via an interactive workshop.
When: 8:30am to 5pm, 21 February
Where: Hall C, Royal International Convention Centre, 600 Gregory Terrace, Fortitude Valley, Brisbane (the Ekka grounds)
Registration: The event is free, but registration is essential for catering. Click here to register
Join myMLA today
One username and password for key integrity and information Systems (LPA/NVD, NLIS, MSA & LDL).
A personalised online dashboard that provides news, weather, events and R&D tools relevant to you.
Customised market information and analysis.
Already registered for myMLA?