myMLA – tailored to you
09 August 2017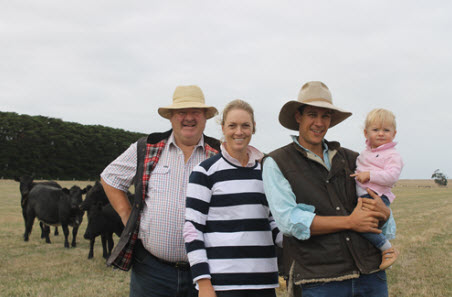 MLA's new online service, myMLA, is proving a hit with producers, with about 10,000 now signed up. Users are reporting 'convenience', 'relevance' and its ability to aid in 'efficient administration' as some of the positive features.
myMLA, a new component of the MLA website, offers personalised, applicable content delivered to an online dashboard unique to each user.
To sign up to a myMLA account, producers enter their email address and choose a password. Users then configure the myMLA dashboard to suit their enterprise.
After entering their postcode and enterprise type – choosing from grassfed cattle, grainfed cattle, sheep and goats – myMLA provides:
a customised seven-day weather forecast
information from the MLA Prices and Markets team based on the production type and location; users can also customise up to eight online 'market information/indicator cards'
information on nearby events
pertinent industry news, market news and advice, and information from MLA and other sources
links to relevant research resources and tools
a link to a single sign-on facility for key industry integrity and information systems.
Information: www.mla.com.au/about-mla/mymla or email info@mla.com.au
Here's how one enterprise has embraced myMLA.
James and Georgie Knight, 'Dornoch', Mortlake, Victoria
James and Georgie Knight moved to 'Dornoch' 12 months ago to manage the family beef business. They run 900 Angus and Angus-Shorthorn breeders.
What motivated you to sign up to myMLA?
Streamlining administration and keeping informed are key areas of focus and interest. We saw the myMLA portal as a great tool to access multiple platforms from the one site and be provided with up-to-date data.
How has it changed how you manage information and marketing?
We have myMLA set as our homepage on our office computer to give us a daily snapshot of the EYCI, saleyard prices, market and industry news, and MLA-supported events and resources. Key measurable indicators are set within our new business and the portal allows us to track those indicators and manage our marketing cycle.
Name the best feature of myMLA
It is a very user-friendly interface and is easily modified to suit a producer's business. The LPA, NLIS and MSA-linked account has streamlined administration and is a key feature for our business.
Any suggestions for improvements?
Although the site is mobile compatible, it would be beneficial to see it released as an app, given the increasing amount of time spent working outside the office.
Join myMLA today
One username and password for key integrity and information Systems (LPA/NVD, NLIS, MSA & LDL).
A personalised online dashboard that provides news, weather, events and R&D tools relevant to you.
Customised market information and analysis.
Already registered for myMLA?