New collaborative research partnership to boost livestock productivity and genetics
22 February 2017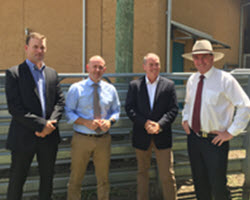 A new multi-million dollar collaborative research and development funding partnership between Meat & Livestock Australia (MLA) and NSW DPI will provide a significant boost to productivity and genetics gains in the livestock industry.
The new collaborative partnership – announced last week in Armidale, NSW, by Deputy Prime Minister and Minister for Agriculture Barnaby Joyce and NSW Minister for Primary Industries Niall Blair – will see funding in key research areas that benefit the sheep and cattle industries.
As part of the investment, NSW DPI will commit $17.5 million to a five-year livestock R&D collaborative partnership with MLA Donor Company (MDC) – a fully-owned subsidiary MLA.


The partnership will invest in research projects that focus on key red meat industry priorities, including:
Improving supply chain efficiency;
Overcoming nutritional limits to livestock genetic potential;
Improving reproductive performance and maternal efficiency;
Sustainability of livestock production systems;
Enhancing the feedbase by optimising grazing and soil management.
Under this collaborative partnership model, MDC will match NSW DPI funds for research projects that address the five key red meat priorities identified.
NSW DPI will also invest an additional $5 million in the new National Livestock Genetics Consortium (NLGC) – with in-principle support from MDC to match this investment in the NLGC.
MDC CEO Dr Christine Pitt said the partnership was a significant investment in research, development and adoption for the southern sheep and cattle sectors.
"We are continually seeking to improve the productivity, profitability and sustainability of the Australian red meat industry and ensure that our industry remains globally competitive," Dr Pitt said.
"Through collaboration with respected partners like NSW DPI, and the use of our subsidiary MDC, MLA is generating new research and development investment that will have a real and lasting impact for industry.
"The investment and commitment from NSW DPI in the NLGC is particularly welcomed as the Consortium seeks to fast-track the delivery of transformational technologies to the Australian red meat and livestock industry."
Join myMLA today
One username and password for key integrity and information Systems (LPA/NVD, NLIS, MSA & LDL).
A personalised online dashboard that provides news, weather, events and R&D tools relevant to you.
Customised market information and analysis.
Already registered for myMLA?