Next generation consultation
31 January 2018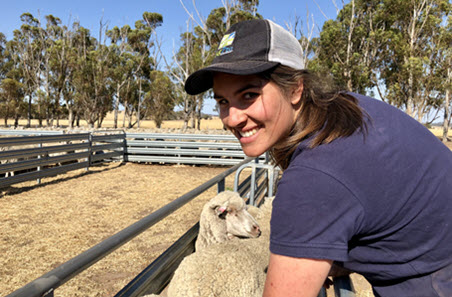 Meet Georgia Reid, one of the current cohort of MLA Donor Company (MDC)-supported Livestock Consulting Internship.
Managed by Meridian Agriculture, the Livestock Consulting Internship is a partnership between MDC and consulting firms to provide the interns with industry experience, skills and knowledge to accelerate their livestock consulting careers.
The program provides personal development support, practical skills and access to industry networks, and the interns undertake a Graduate Certificate in Agricultural Consulting through the University of New England.
Over the two years, the interns also identify, develop and implement a major industry research project, giving them a real-world understanding of the delivery of research and development.
Agricultural consultant Ed Riggall of AgPro Management has a growing business and was keen to invest in someone in the early stages of their career. The investment from MDC gives Ed the flexibility to encourage Georgia, his intern, to attend a wide range of learning opportunities, both as part of the program and more informal opportunities such as field days and industry events.
Here WA-based Georgia explained to Friday Feedback her career aspirations and what she's already learning through the internship.
Tell us about your background:
I come from a mixed farm in south-west WA, and have always been in the agricultural industry. I've completed an Agricultural Science degree at the University of Western Australia, with an honours year investigating the impact of media coverage of the 2011 live export ban on WA livestock producers.
After a stint with the Royal Agricultural Society working in education and 'agvocacy', I was keen for a more hands-on role working with producers. I want to help promote sustainable and profitable productivity from within the industry, and be part of the link between producers and the latest research and development.
What benefits have you experienced throughout the program?
With this support, there's less pressure on me to be "commercially viable" while I up-skill, and this gives more leeway for personal and professional development. This is an opportunity that's unique and invaluable. I feel incredibly lucky.
I'm also enjoying the UNE course. We've selected units that align with what I'm doing at work to create a nice synergy. Most recently this was a unit on meat science, which involved taking carcase measurements to see how different finishing methods affected meat quality and the price producers received.
What sort of projects are you working on at the moment?
Together with Ed, I'm working on a range of producer-driven feedbase projects investigating pasture manipulation (spraying timing), grazing cereal crops and the role of chaff carts as a feed gap resource (an MLA-funded Producer Demonstration Site). Our team is also involved with a grower group, Lakes Farming Information and Technology, looking at alternative legume pastures and crops for heavy soils.
A highlight has been learning about benchmarking and understanding the often misunderstood drivers of profit and productivity. I feel so privileged that clients are willing to share their data with me – it's been by far the greatest and most valuable learning curve of the internship.
And in the future?
I'm keen to see projects on increasing efficiency, particularly from the feedbase, and for new projects to build on what have been learnt previously to avoid reinventing the wheel. Research needs to include or build on what we have learnt from previous projects, which may have been carried out elsewhere – there needs to be greater sharing and collaboration of the data, and increased producer involvement, not just consultation.
Information:
Georgia Reid
AgPro Management (WA)
E: georgia@agpromanagement.com
mla.com.au/rural-professionals
Join myMLA today
One username and password for key integrity and information Systems (LPA/NVD, NLIS, MSA & LDL).
A personalised online dashboard that provides news, weather, events and R&D tools relevant to you.
Customised market information and analysis.
Already registered for myMLA?