Pastures for performance
15 June 2018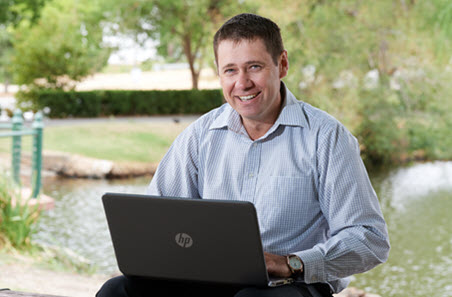 Tony Roberts isn't afraid to experiment with pastures on his 628ha property in Ararat, Victoria.
He's tried several varieties of phalaris, cocksfoot, lucerne, and sub-clovers. More recently, he's looked at the benefits of red-legged earth mite-resistant clovers and where prairie grass might have a place.
"I find looking at new species really interesting and I'm very lucky to have a group of high-functioning producers in the region who are generous with sharing their experience and advice," he said.
Using the resources available to you
Tony runs 300 Merino ewes and 600 composite (Suffolk–Merino–Charollais) ewes on primarily phalaris pastures mixed with cocksfoot, lucerne and natives in a 600mm rainfall zone.
To select the pasture varieties best suited to his property and production system, Tony relies heavily on local trial feedback provided by the MLA-supported Perennial Pasture Systems producer group.
He's also started exploring the new Pasture Trial Network (PTN) tool that helps producers choose varieties that suit their climate and also tells them whether they are early or late-maturing, and the expected dry matter production.
For Tony, the past decade has been dominated by pasture renovation, and having the support of the Perennial Pasture Systems producer group and the PTN has enabled him to use a suite of tools, information and test scenarios prior to investing in varieties.
Testing new varieties
"The farm has gradually evolved from a full native pasture base 40 years ago, to a balance of high-performance species on the arable country and natives on the hills," he said.
Originally, the family used oats in cropping rotations to level paddocks, improve fertility and clean up weeds before introducing the original Australian phalaris and some sub-clovers to their grazing system.
"In recent years, we've used triticale as a cropping rotation, which we strip and bale for our own stock feed to prepare paddocks for permanent pasture," Tony said.
"For my first (permanent) sowing experience, I took a measured approach. I mixed the two 'Australian' phalaris varieties (3kg/ha) because it's proven in this area, and the then-new cultivar Holdfast (3kg/ha). As a test, I also sowed one part of the paddock with straight Holdfast to monitor it.
"Holdfast's production has proved to be well ahead of Australian, but fertiliser and good grazing management are key to its persistence."
Trikkala sub-clover (sowing rate 8–10kg/ha) was sown as a companion variety to his Australian–Holdfast phalaris mix and, more recently, Tony has moved to Holdfast GT (6kg/ha).
"I've also been investigating alternatives to phalaris as it can have its issues and, as I work off farm, I need to manage that risk," he said.
"The new varieties of cocksfoot offer improved palatability and production compared to the old, so during the past three years we've planted 15ha of SF Greenly/SF Lazuly (10kg/ha) with Narrikup and Rosabrook sub-clovers (10kg/ha).
"When comparing animal health, I've noticed significantly reduced (up to 80% less) dags on stock running on the cocksfoot mix compared to phalaris."
Tony has also planted SF Jeronimo prairie grass (8kg/ha) as a mix with the new cocksfoot.
"It's a grazing brome with a large awned seed," he said.
"It's quick to establish and highly productive into winter but will set seed early to recruit plants for the following year.
"The prairie grass performs in early winter to give us production which is ideal for lambing. We let it seed and the cocksfoot takes over production for the rest of the season, producing an abundance of dry matter into early summer."
Looking into plant health
Tony's next journey is exploring red-legged earth mite-resistant clover varieties.
"From my experience and the local trials, there's a significant visual difference in plant health between the red-legged earth mite-resistant varieties and Trikkala," he said.
"The resistant varieties seemed unaffected by the pest without any decline in palatability."
More information
Join myMLA today
One username and password for key integrity and information Systems (LPA/NVD, NLIS, MSA & LDL).
A personalised online dashboard that provides news, weather, events and R&D tools relevant to you.
Customised market information and analysis.
Already registered for myMLA?