Pastures to push production
01 June 2017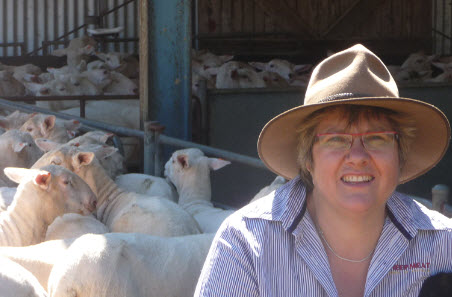 After gaining more than twice the number of heavyweight lambs off improved perennial pastures, Victorian producer and South West Prime Lamb Group member Kate Joseph has no doubt that pasture rundown affects the growth rate of lambs.
"I run a high stocking rate so I prioritise better pastures for higher-performing sheep and ewe lambs," she said.
Kate runs a prime lamb enterprise joining Border Leicester x Merino ewes to Poll Dorset rams at Tyrendarra in south west Victoria.
Her property hosted trials as part of the MLA-funded Producer Research Sites (PRS) program to develop a flexible approach to pasture management to help lift perennial ryegrass persistence and reduce the need for re-sowing.
"One of the techniques the PRS project has given me is the ability to know how to improve my pastures and prioritise my feed to stock needs."
Kate said locking up paddocks to allow ryegrass to set seed was not suitable in her operation, so pastures were improved annually and barley grass infested pastures were managed to avoid stock health issues in spring.
"We have found we get the best results for barley grass control if we spray affected paddocks with 200ml/ha of Shogun® following germination and seedling establishment, which – depending on the season – is usually late autumn," she said.
"One year of management definitely decreased the amount of barley grass and increased the percentage of perennial ryegrass in the pasture, but two consecutive years of treatment was more effective in barley grass control. Using Shogun® is cost-effective management as it works out at approximately $9/ha," she said.
"However, you must have ryegrass already in the paddock before using Shogun® and strategically treat only a portion of affected pastures annually, or you will end up with a feed deficit and even worse weed problems in the open spaces created by the removal of the barley grass seedlings.
"Smaller properties like ours present their own problems – there is less flexibility for livestock movement and improvements will only happen if we get an early autumn break and have the time to establish new pastures before lambing begins.
"Our main priority is managing the pastures we have already improved and slowly improving another paddock as often as we can."
Pasture persistence strategies
allow ryegrass to reseed naturally
increase the percentage of perennials in your pasture
identify nutritional deficiencies in soil
graze strategically
before spraying weeds, consider time and input costs versus pasture gains
assess paddocks – it may be more cost effective to renovate seriously run down pastures
take seasonal conditions into account – herbicides that kill silver grass and barley grass will suppress growth rates of ryegrass.
More information:
Kevin Smith, Researcher
E: kfsmith@unimelb.edu.au
Lisa Miller, Victorian PRS Coordinator
E: lmiller@sfs.org.au
Kate Joseph, Primeag
E: primeag@westvic.com.au
This article first appeared in the May/June edition of Feedback magazine www.mla.com.au/feedback
Join myMLA today
One username and password for key integrity and information Systems (LPA/NVD, NLIS, MSA & LDL).
A personalised online dashboard that provides news, weather, events and R&D tools relevant to you.
Customised market information and analysis.
Already registered for myMLA?