Pilbara's promising new market
28 June 2018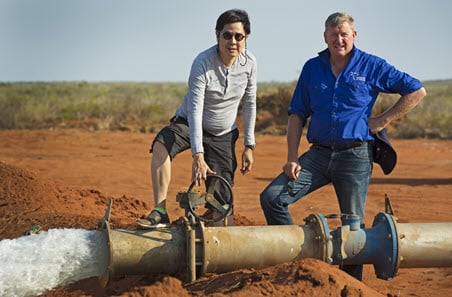 Selling Wagyu beef direct to China from WA's Pilbara region is not the stuff of fairytales. An innovative approach is seeing this new red meat venture develop rapidly to lift beef exports from the west.
Launched in 2015 by its owner, Singaporean businessman Bruce Cheung, Pardoo Beef involves a detailed vision to supply high quality Wagyu beef to China. The business plan suggests the enterprise could be turning off 100,000 head by 2031.
But it's not just about selling beef. What makes this venture so compelling is its focus on measurement and data analysis and its enormous capability to manipulate its environment and production systems through large-scale irrigation.
Pardoo aims to:
turn-off more than 4,000 purebred Wagyu annually at 400kg carcase weight at 30 months of age, within the next five years
double the area under centre pivot irrigation (presently 810ha) within two years
graze the Wagyu herd on irrigated pastures full-time
calve Wagyu heifers at two-years-old and plan for a calf every year
calve in June/July, creep-feed calves and wean them before summer
establish its 'Exclusive Pilbara Wagyu' brand in the marketplace before the herd reaches its production targets.
How are they doing it?
According to Pardoo Corporation's Chief Executive Officer Brett Blanchett, their Wagyu herd is in a rapid building phase, with females purchased from Lake Nash Station (Georgina Pastoral Company) in the Barkly Tablelands of the Northern Territory. Already the enterprise is running almost 3,000 females.
"The aim is to produce quality, highly saleable animals using genetics known to favour high marbling and eating quality," he said.
The enterprise is based on 200,000ha at Port Hedland and Pardoo Beef runs an additional 430ha at Wundowie and 500ha in the Perth Hills.
Chedaring Farm, near Perth, is home to Pardoo's Wagyu genetic multiplier herd and is where they will use artificial insemination and embryo transfer to rapidly increase the rate of genetic gain in their animals.
MLA Donor Company has partnered with Pardoo to run a three-year data collection and analysis project to explore the production/economic benefits of different pasture and breeder management systems and how to best utilise Pardoo's 15-gigalitre annual water allocation.
Led by former Professor of Animal Production Systems at Murdoch University, Kevin Bell, the research team is measuring Pardoo's production parameters. These include pasture growth per megalitre of water, fodder production costs (in cents) per megajoule of energy, nutrient profile and comparative performance of pasture grasses such as Rhodes and panic, legumes (lucerne) and crops (maize silage).
"We're also assessing cattle performance through direct growth measurements, as well as blood and tissue tests to monitor nutrient or trace element deficiencies and effectiveness of parasite control," Kevin said.
"We realise that the beef production system is truly innovative and pushing the boundaries of accepted practice in this northern region. We take it seriously to monitor water, soil, plant and animal parameters to ensure the sustainable and profitable production of healthy cattle and make this information available to industry.
"The results of these analyses will not only inform our business practices and direction, but also help other northern beef enterprises realise what is possible.
"For example, while the Wagyu herd lives under irrigation full-time, if our analysis shows it is more resource-efficient and profitable to use part or all of that area for fodder production and 'cut and carry', similar to systems producers use in the UK and EU, we'll do that," Kevin said.
Production systems
Brett, who has managed properties from New Zealand to the Top End, is keen to see how the business can maximise the artesian aquifer irrigation to manage production.
"We're looking at calving our Wagyus when it's cooler, creep feeding the calves and weaning them at 90–100kg in time to dry the cows off through summer," he said.
Kevin said this practice would also improve pregnancy rates for females, particularly first-calf cows, and they expect the herd to achieve a 95% average weaning rate.
Purebred Wagyu weaners are also continuously rotationally grazed under pivot irrigation until reaching 400kg when they are shifted to feedlots in south-west WA for long feeding.
Marketing
To ensure their market is well established by the time Pardoo Beef reaches full production, the company keeps 1,000 head on feed year-round to ensure continuity of supply.
"We'll keep this going while we're learning the business and exploring the challenges of operating on the west coast," Brett said.
As the supply chain becomes established, Pardoo will continue to work with the company's feedlot, finishing and processing at Warwick, Queensland.
LESSONS LEARNED
Irrigation means producers can challenge and change their environmental constraints.
Prepare the marketplace for the product you plan to deliver.
The MLA Donor Company Project with Pardoo will help northern producers think outside the square with real commercial data on a range of production options.
To obtain information about this MLA Donor Company project as it progresses contact:
Kevin Bell
Email Kevin Bell
T: 0427 433 244
pardoo.com
Join myMLA today
One username and password for key integrity and information Systems (LPA/NVD, NLIS, MSA & LDL).
A personalised online dashboard that provides news, weather, events and R&D tools relevant to you.
Customised market information and analysis.
Already registered for myMLA?