Point of purchase remains the main touchpoint for consumers in the USA
08 August 2017
Now in its fifth year, MLA's global consumer tracker looks at consumer needs and trends in key global markets. Here we take a closer look at Australia's biggest export market, the USA.
In a large, fragmented market like the USA, point-of-purchase marketing is the only realistic avenue to reach beef consumers directly, and at scale. Until online meat purchase takes off (currently, only 10% of US beef buyers have ever bought beef online), the packaging, the shelf - and the product itself is the most sure fire way to communicate with shoppers, and encourage them to buy Aussie red meat.
So, what are USA shoppers looking for when they buy beef?
Value is important – however, MLA's research shows that freshness, safety and 'naturalness' are considered to be just as important as price for many consumers. This is a trend that Australia can most certainly benefit from.
Freshness is mostly communicated via the sell by date, but the colour of the meat is another way consumers determine freshness, as well as quality. The chart below shows the ideal meat color that fresh beef buyers desire.

Naturalness is an imprecise term for many consumers, which basically means 'nothing bad is added'. Naturalness encompasses being free from antibiotics, genetic modifications, preservatives, and more. Labelling and packaging are excellent vehicles for communicating this claim.
Safety is less straightforward, as there is no universal safety certification for beef. Instead, demonstrating freshness and naturalness, along with quality grading, and clearly sealed packaging will help consumers feel safe with their choice.
'More of the good, less of the bad' – how what goes into the meat is meaningful
Some consumers will pay extra for beef if they know it is hormone or antibiotic free. Many US consumers are also willing to pay for beef based on the production method, as shown by interest in grass-fed and organic, not typical production methods in the USA.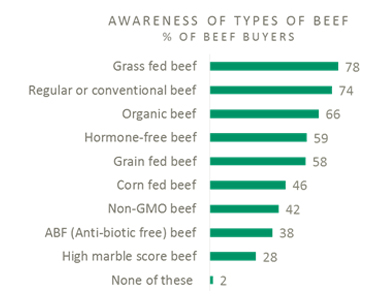 These terms are not mutually exclusive, and there is definitely overlap in consumers' minds between them, but they are perceived subtly differently as well. Grass-fed is seen as better for the animals, whereas organic denotes natural production. Hormone-free ticks the box on safety and is perceived as 'better for my health'.
Marbled fat is polarising
Another thing shoppers look for is fat on the meat – particularly as a marker of quality. It's complicated, because consumers are torn over whether fat is a good thing or not. Some like it, some don't.

By separating consumers into groups based on their attitudes to fat, we can learn more about what drives consumer choice – and how this is different across segments, and across the globe.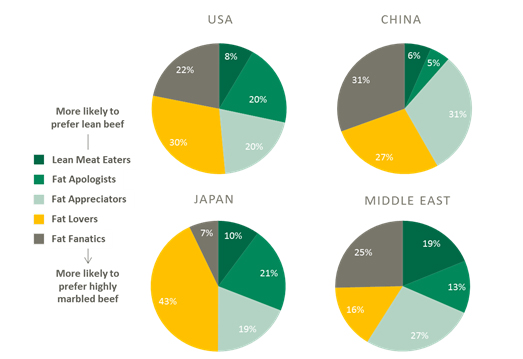 Segmenting the market is the key
The USA is a huge market, with room to expand share for Australian beef of all types. However, it is very competitive, and home-grown beef has many advantages. For many Americans, beef is just beef, especially when it's ground. But increasingly US consumers are looking for markers of differentiation – a reason to choose this beef over that beef. There are many markers, and they appeal to different groups - some prefer a highly marbled steak, some look for grass-fed or organic credentials. All US consumers want beef that is fresh, natural, safe, and represents good value. These are the 'table stakes'; beyond this, targeting specific groups with a suitable product, and the right communications, increases the chances of capturing their sales.
More information
MLA will be releasing full reports from the Global Consumer Tracker, covering all markets included in 2017 – including Australia – from October onwards. Select insights will be communicated through MLA's Global Market Update e-newsletter. If you want to subscribe to the newsletter please do so here.
More information
Andrew Price
MLA Global Market Insights Manager
E: aprice@mla.com.au
Join myMLA today
One username and password for key integrity and information Systems (LPA/NVD, NLIS, MSA & LDL).
A personalised online dashboard that provides news, weather, events and R&D tools relevant to you.
Customised market information and analysis.
Already registered for myMLA?