Premium opportunities in MENA
11 July 2017
The Middle East and North Africa (MENA) region is uniquely diverse, encompassing 29 countries and a population of around half a billion.
Given the breadth of this region, MLA takes a strategic approach to identify the opportunities for Australian red meat – and within this, the opportunities for premium Australian red meat.
This analysis is based on market and consumer insights, market access constraints and on-the-ground knowledge of MLA staff based in the region. This intelligence then informs MLA's in-market activities to best realise the opportunities to grow demand for Australian red meat.
Key considerations MLA uses to gauge the opportunities for premium Australian red meat in the MENA region are:
Population: In terms of total population, Egypt (over 95 million in 2017) and Iran (over 80 million), are countries that stand out, while others such as Algeria, Iraq, Morocco and Saudi Arabia each have populations of over 30 million. Within these populations, MLA considers the population of consumers who can afford to frequently purchase premium red meat imports.
Regional city differences: Knowing how regional cities differ enables better targeting of marketing and business development activities.
Consumer demand growth: To anticipate medium-term demand growth, MLA considers the value and volume growth of markets by using forecast data to look ahead to the next five years.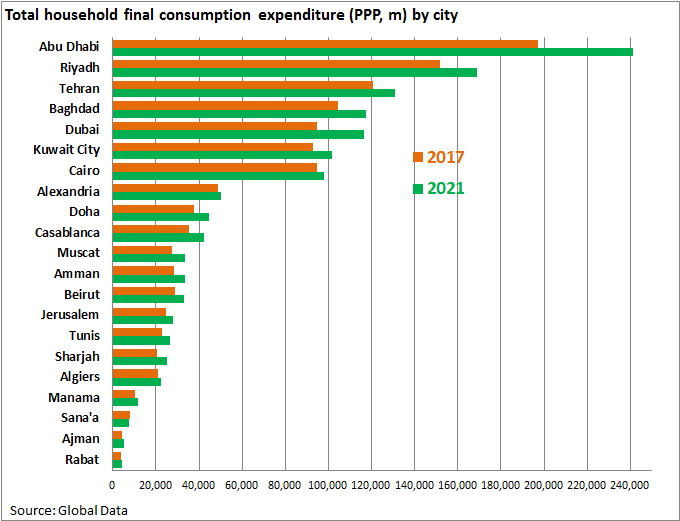 Tourist visitors: High tourism numbers have a significant impact on red meat demand in the foodservice sector, particularly in cities such as Dubai, Doha, Tel Aviv and Cairo. A country such as Saudi Arabia receives millions of visitors each year for the Hajj pilgrimage, a key driver of red meat sales.
Consumer protein preferences: The preference for consumers to purchase red meat as opposed to other proteins is also a key consideration when assessing the opportunities for premium red meat.
Regional traditions and cultural differences: Some countries in the region are bigger beef consumers, such as some Levant countries of Lebanon and Israel, but also Egypt. Others more strongly favour lamb or mutton, such as UAE, Qatar and Bahrain.
Red meat import demand: Generally, the GCC countries rely more on imports and have stronger demand for premium imports, whilst non-GCC countries have more domestic production of all food groups, including red meat. Some countries, such as Turkey and Morocco, have high levels of per capita consumption but as they have high levels of red meat production of their own, their import demand is low. Countries such as Egypt, Iran and Algeria (for beef) and Saudi Arabia and Jordan (for sheepmeat) have significant domestic production but it is still insufficient to meet consumption demand. Others, such as UAE and Qatar, have comparatively low domestic production but high consumption rates and, hence, significant import demand.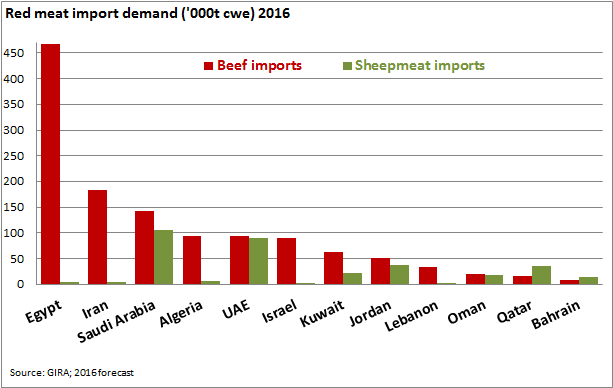 Premium red meat import demand: Import demand for premium red meat is stronger in some MENA markets than others, depending on the maturity of the foodservice and retail sectors and level of understanding of red meat quality attributes.
Current premium markets for Australian red meat
As gauged by Australian chilled beef export volumes, UAE, Saudi Arabia and Qatar are significant existing premium markets. Similarly, UAE, Saudi Arabia and Jordan are significant existing markets for Australian premium lamb.
These are among the markets in the region forecast to see good demand growth prospects, which bodes well for Australia's red meat export growth opportunities in the region.

More information
Read MLA's MENA beef and sheepmeat snapshots.
Join myMLA today
One username and password for key integrity and information Systems (LPA/NVD, NLIS, MSA & LDL).
A personalised online dashboard that provides news, weather, events and R&D tools relevant to you.
Customised market information and analysis.
Already registered for myMLA?