Preparation breeds success
19 October 2017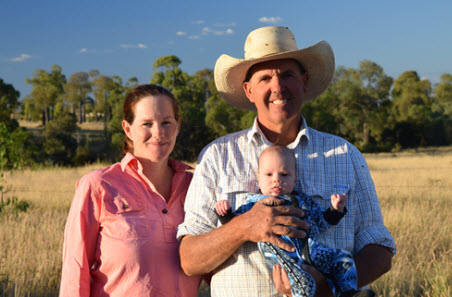 When Geoff and Lyndal Nicol head to a bull sale, they already know which bulls they're going to look at.
They'll have shortlisted 20­­­–30 bulls that will be above breed average estimated breeding values (EBVs) for scrotal circumference, days to calving, 400 and 600 day weights, and have superior morphology. They will then critically assess each one of these for structure and temperament.
Geoff and Lyndal are looking for physical and genetic traits that will improve their herd's fertility and growth. They run 430 Santa Gertrudis–British–Euro breeders, producing steers and heifers to supply to feedlots from their 4,250ha property 'Ninderra' at Injune, Queensland.
"Our weaners are mostly sold into the feeder market at 450–480kg live weight, with some heifers at 380–400kg," Geoff said.
"We're putting Santa bulls over cross-bred (Santa–British cross) cows."
The Nicols buy bulls from a stud with a long history of performance recording, and genetic information provided by EBVs is critical to their selection process.
"I download the stud's sale catalogue from the Santa Gertrudis breed society website and use their select-and-sort function to pick which bulls meet our criteria," Geoff said.
Geoff considers semen morphology testing, part of a Bull Breeding Soundness Evaluation, essential.
"We want bulls that test above 80% on morphology because they're more likely to positively influence the reproductive performance of their daughters and, if they become stressed, they are likely to remain more fertile than bulls with average morphology," he said.
Their ideal bull is medium-framed with good fat coverage.
"If our top picks are too dear, our back-up plan is to compromise on some growth performance. We won't sacrifice on fertility though," Geoff said.
Geoff's lessons learned
Have a clear breeding objective before the sale.
Choose bulls with a balance of commercially relevant traits, backed by EBVs.
Sacrifice growth traits ahead of fertility traits - fertility is essential to a breeder herd.
Information
Geoff Nicol
E: gd.nicol@bigpond.com
BREEDPLAN
For information on bull breeding soundness examinations go to www.futurebeef.com.au and search 'BBSE'.
Join myMLA today
One username and password for key integrity and information Systems (LPA/NVD, NLIS, MSA & LDL).
A personalised online dashboard that provides news, weather, events and R&D tools relevant to you.
Customised market information and analysis.
Already registered for myMLA?