ProAgni wins the pitch
17 May 2018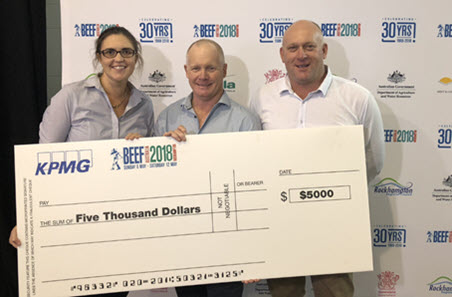 A NSW start-up developing a probiotic feed additive to boost livestock productivity took out the Inaugural Beef Australia 2018 Pitch in the Paddock competition.
Robert Bell, Lachlan Campbell and Fiona Soulsby from ProAgni are working with researchers and manufacturers to create a feed additive from beneficial microbes aimed at improving gut health in grain fed cattle and sheep. If successful, it would support animal health, accelerate dietary transition and improve feed conversion.
The additive is also being developed in a dry state to retain high beneficial microbe populations without refrigeration so it is easily transported, stored and administered.
ProAgni is currently participating in the MLA Donor Company Producer Innovation Fast-Track, an initiative developed by MLA Donor Company (MDC) to enable producers to be actively involved in driving the innovation agenda. This program identifies the industry trailblazers and provides the support and expertise required to build their innovation capabilities.
Pitch in the Paddock heard pitches from eight finalists, covering a range of red meat innovations in a quest for the $5,000 prize money to help business start-up acceleration.
Robert Bell, Lachlan Campbell and Fiona Soulsby started working together on the supplement concept in 2015.
While all three are producers, Robert is also an animal systems production specialist from Lawrence, NSW; Lachlan is a portfolio manager and runs a large farming enterprise from Wellington, NSW; and Fiona is a nuclear medicine scientist turned accountant and business advisor from Albury, NSW.
ProAgni has feed additives available on the market now, with further research and trials underway to develop the probiotic concept into a range of additives.
The team looks to further research the impact of their technology on reducing carbon emissions in livestock production, and improving energy conversion in grassfed animals.
ProAgni has worked with the Fast-Track program to carry out intensive customer research and to re-examine its business model.
"Considering our collective experience in agriculture and working as business consultants, we were unsure how the program would benefit our team, but it has been so valuable in determining exactly what our customers' needs are and developing our product market fit," Lachlan said.
"It's given us the confidence in our product and supported us to refine our business model, which no doubt helped with our pitch at Pitch in the Paddock."
More information
MDC Producer Innovation Fast-Track: mla.com.au/fasttrack
Join myMLA today
One username and password for key integrity and information Systems (LPA/NVD, NLIS, MSA & LDL).
A personalised online dashboard that provides news, weather, events and R&D tools relevant to you.
Customised market information and analysis.
Already registered for myMLA?