Produce more from less
15 March 2019
With tough seasonal conditions really starting to bite, the need for sheep producers to optimise resource allocation to produce 'more from less' has never been more important.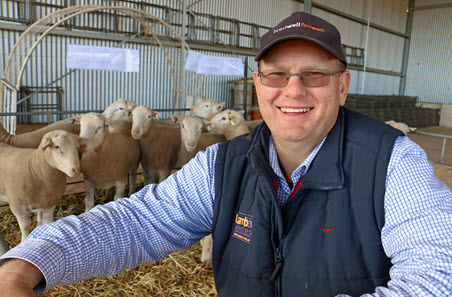 So, how can you make the most of the limited feed, water and financial resources available, and positively influence the performance of the ewes you have on hand?
Bred Well Fed Well deliverer Dr Jason Trompf says the key is to mark as many lambs as possible from your remaining ewe base, and one practice that can help achieve this is pregnancy scanning.
"The key to producing more live lambs from your existing ewe base is more targeted resource allocation," Jason said. "In other words which sheep gets allocated what, and why?
"A practice that enables more informed resource allocation is pregnancy scanning. But just scanning alone doesn't deliver these benefits – what governs the pay-off is what you implement as a result of scanning."
In order for Jason to deliver more specific advice in these tough times, he is publishing a series of articles and online training based on individual producer's approaches to scanning their ewes. To facilitate this, he has published a survey asking producers how they utilise pregnancy scanning, with respondents given three choices:
not scanning
scanning wet/dry
scanning multiples.
Jason's management advice varies based on each farm's scanning approach:
Not scanning
If you don't scan at all the challenge is that it means your entire breeding flock has to be managed as one, most probably run in age groups, with no ability to prioritise resources to one breeding ewe over another. The slight exception being, on an age group basis, you can choose to look after your maiden and older ewes (>5 years) preferentially, compared to the rest of the breeding flock.
Scan for wet/dry (pregnant or empty)
If you scan for pregnancy only (wet/dry), after scanning you can remove the dry ewes and either sell or re-join them, but most importantly prioritise resources away from the dry ewes towards the pregnant ewes. This enables proactive management of the pregnant ewes' condition score between scanning and lambing, however you can't preferentially allocate resources to twins over singles.
Scan for multiples (dry, single or multiple)
Scanning for multiples enables targeted preferential treatment to each ewe based on pregnancy status – dry, single and multiple. This is critical given the primary causes of lamb loss are directly influenced by ewe nutrition during pregnancy and lambing.
Scanning for multiples allows:
better resource allocation to achieve condition targets
proactive care for at-risk ewes, such as lean, twin-bearing ewes
greater system flexibility
ability to prioritise feed and parasite management during lactation and post-weaning to aid ewe recovery.
More information:
To participate in Jason's survey, and get more information that is specific to your circumstances, click the link here and register your information.
Other resources:
Making More From Sheep:
It's Ewe Time forums – mla.com.au/events
Join myMLA today
One username and password for key integrity and information Systems (LPA/NVD, NLIS, MSA & LDL).
A personalised online dashboard that provides news, weather, events and R&D tools relevant to you.
Customised market information and analysis.
Already registered for myMLA?