Q&A with Sam Burke - Red Meat 2017, Alice Springs
29 November 2017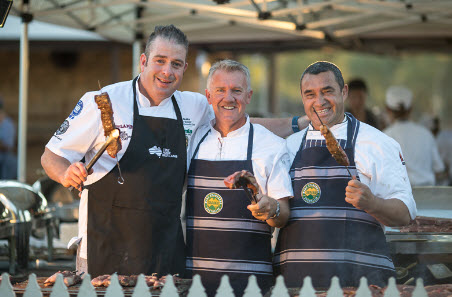 MLA's corporate chef Sam Burke is no stranger to cooking for large crowds, but his role at Red Meat 2017 in Alice Springs this month was a bit different. This time, he cooked beef, lamb and goatmeat 'produced by levy payers, for levy payers'. Sam and the amazing culinary team from Crowne Plaza Alice Springs headed up by Executive Chef Gavin Wilcock made almost 2,000 meals across the two days in the Red Centre.
Here Prices & Markets talks to Sam about the event, the quality of Australian red meat and current trends in the foodservice industry.
Tell us all about Red Meat 2017 and what you got up to at the event.
The event was something brand new for MLA – it was more than just an AGM. Last week was all about bringing the industry together to highlight the great things that are happening at the moment, from innovation and technology to a focus on different cuisines.
For me, Red Meat 2017 was an opportunity to show the levy payers who work so hard to bring us these proteins how the red meat they produce is cooked up around the world, as well as in the domestic market once it leaves the farm gate. They don't always get to see what happens down the track, so it was great to show them how it's cooked in different cultures and markets.
What were some of the highlights on the menu?
There was a lot of cooking over coals this year to show our producers that 'street food' element. We also did a lot of 'slow and low' cooking using Texan offset smokers and focused on both primal and non-primal cuts. We really wanted to emphasise the importance of total carcase utilisation.
Some of the highlights were the beef and lamb shashliks served with Israeli cous cous, smoked Xian lamb racks with seaweed salad and our Chateaubriand steak with pomme Lyonnaise and mushroom ragout sauce. To celebrate Australia's Free Trade Agreement with Peru, we also cooked up some grilled Adobo rubbed beef heart skewers over the parilla served with a fresh quinoa salad.
What was the feedback from producers?
The feedback was amazing, it really was – sampling the variety of cuisines was a massive highlight of the event. A big thanks to Gavin Wilcock and the team at Crowne Plaza Resort in Alice Springs for helping with all of the planning for the menus, and to our humble champions – the producers – for their interest in the food we cooked up for them.
We wanted to show these producers that we're the go-to people for red meat – it was important to showcase a real masterclass of our product. It's not acceptable to put a bit of roast beef and salad in a bread roll anymore; we wanted to showcase the innovative uses for red meat and demonstrate to the producers how we market their protein across the world and in the domestic market.
From a chef's perspective, what characteristics of the Australian red meat industry really stand out in comparison to overseas markets?
It's the fact that Australian producers take great pride in their product and that reflects on the end quality. We're producing meat in one of the most unique climates, and because we're an island, it protects our animals from diseases. We've got the wide open spaces, the traceability and quality assurance systems and an abundance of quality produce. Meat Standards Australia (MSA) has definitely helped with ensuring we can market our superior meat.
What are the greatest opportunities for the Australian foodservice sector at the moment and how does red meat tie in to this?
The greatest opportunity is total carcase utilisation, which MLA's Rare Medium foodservice program is doing at the moment by looking at different methods of cookery and how we can use not only the primal cuts, but also the non-primal cuts in innovative ways.
Another opportunity is to continue using Australia's supply chain integrity systems to re-engage with our consumers both here and overseas; communicating along the chain to let our consumers know where their red meat came from.
What are the culinary trends you're seeing at the moment?
The trend that doesn't seem to be going away is burgers – whether it's the extreme end of burgers with their crazy fillings, or the classics that focus on quality produce like hand-minced patties made from a variety of cuts, we're definitely going to be seeing more burgers on our menus.
'Back to basics' is another trend that's continuing to grow. Chefs are now foraging, milling, pressing, smoking, fermenting and curing food for themselves to streamline that paddock-to-plate process.
We're also seeing higher utilisation of our non-primal cuts, like brisket or chuck for beef, or ribs and shoulder for lamb and goatmeat.
2017 has been a big year. What's on next for you?
We're going to continue to push the boundaries, look at innovative solutions for foodservice consumers that not only promote the versatility of red meat, but are also cost-effective. I want to encourage chefs; work with them to get the best out of our proteins so that they'll use them time and time again on their menus.
More information
Sam Burke
Business Manager, Food Service & Corporate Chef
T: 0413 150 808
E: sburke@mla.com.au
Join myMLA today
One username and password for key integrity and information Systems (LPA/NVD, NLIS, MSA & LDL).
A personalised online dashboard that provides news, weather, events and R&D tools relevant to you.
Customised market information and analysis.
Already registered for myMLA?