Back to

News & Events
Queensland's top MSA producers announced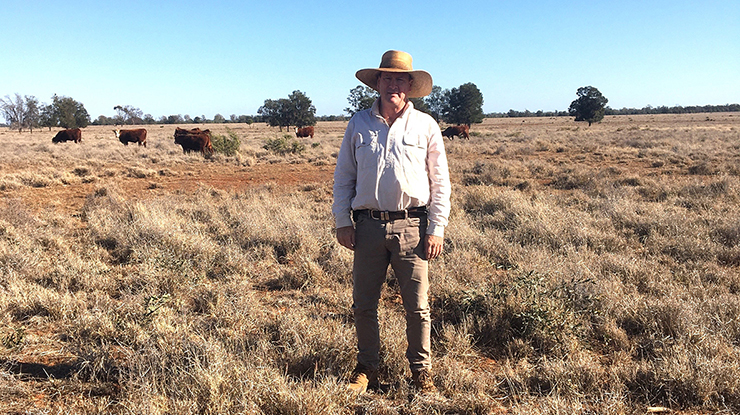 South West Queensland grassfed beef producer Cameron Smith, winner of Queensland's Most Outstanding Band 2 award
Some of the tastiest beef from Queensland has been recognised in the 2023 Meat Standards Australia (MSA) Excellence in Eating Quality Awards, by Meat & Livestock Australia (MLA).
The awards recognise producers from across the country who consistently deliver beef of superior eating quality, based on the parameters of the MSA program.
MSA is based on more than 1.7 million taste tests by over 250,000 consumers from 13 countries and considers the factors that affect eating quality from the paddock to plate.
South West Queensland grassfed beef producer, Cameron Smith and NKP Pty Ltd, won the award for Queensland's Most Outstanding Band 2 (smaller non-grainfed) Producer in the 2023 MSA Excellence in Eating Quality Awards.
NKP achieved an average MSA index of 60.59 and compliance of 98.6% for cattle consigned for MSA grading over the two-year period of 2021–23.
The Smiths run a self-replacing herd of 360 breeders at New Kooroon, supplying cattle for the Teys Grassland's range, and Coles and Woolworths, with steer carcase weights averaging 346kg following finishing on oats.
New Kooroon's annual average rainfall is 525 mm, and its pastures comprise predominantly buffel grass on red loam soil types.
Approximately 300 hectares of oats are planted in late March each year which rising two-year-old progeny are fed on throughout winter before being sent for processing.
"Our 2021 and 2022 oat crops were outstanding with 4.5 month and 5.5 month grazing windows, respectively. This gave the cattle time to reach their potential," Mr Smith said.
"We rotate our mobs of approximately 60 cows between two allocated paddocks per mob to give the pastures a spell when it's needed or after a rainfall event."
Besides good nutrition, Mr Smith said the bulls they buy have a big impact on their MSA results.
"Our herd comprises predominantly Devon-Hereford cross females and some Shorthorn genetics," Mr Smith said.
"We look at Estimated Breeding Values (EBVs), particularly around the rib fat and rump fat, and refer to them when we're narrowing down a decision between two bulls for example."
Mr Smith noted the immense pride he and his family feel after being awarded the MSA award for smaller producers in Queensland.
"It is a good feeling to be getting this feedback and recognition knowing the genetics in the cattle are able to perform well against all breeds in our environmental conditions," Mr Smith said.
"As a breeder/finisher, we want to deliver a top-quality product to the consumer and it's rewarding to know we are."
MSA Program Manager, David Packer, said the awards recognise beef producers in Queensland who have achieved outstanding results in a very large field of tough competition.
"This is the 25th year of the MSA program and in that time, it has become the world-leading eating quality grade program for Australian beef," Dr Packer said.
"It is a key driving force behind the quality of Australian beef, so these awards are a prestigious achievement for the producers."
This year's Most Outstanding MSA Beef Producers for Queensland are as follows:
Most Outstanding MSA Beef Producer – Feedlot

Winner

Stockyard Lot Feeders Pty Ltd, Jondaryan

Finalist - 1st runner up

Maydan Feedlot, Warwick

Finalist - 2nd runner up

Whyalla Beef (NH Foods), Texas
Most Outstanding MSA Beef Producer – Band 1 (larger businesses)

Winner

Bull Creek Pty Ltd, Taroom

Finalist - 1st runner up

Baronga Cattle Company Pty Ltd, Roma

Finalist - 2nd runner up

JC Mayne & Son, Wealwandangie
Most Outstanding MSA Beef Producer – Band 2 (smaller businesses)

Winner

NKP Pty Ltd, New Kooroon and St George

Finalist - 1st runner up

Hillview Feedlot, Killarney

Finalist - 2nd runner up

Penjobe Pastoral, Springsure