Remote technology delivers
23 February 2017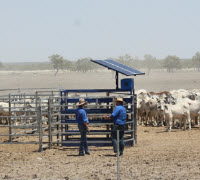 When 'Newcastle Waters' manager Jak Andrews first heard about the Precision Pastoral Management Tools project, he was a little sceptical about how this technology could have a practical application on a property in the NT covering more than 10,000km2.
The Project, supported by MLA through FutureBeef, combined satellite imagery of pasture growth with automatic weighing and drafting of cattle.
"Looking at the walk-over-weighing system, I was concerned about how it was going to work, how many units we would need for our scale of operation and if it would be commercially viable," Jak said.
"However, once we got it set up and started thinking outside the square, I realised we only needed one unit per land type to supply accurate information on our pasture quality and stock performance across the entire property.
"The more we thought about it, the more ideas we came up with on how to add value to livestock, in terms of kilograms, to save time and labour and to make good land management decisions."
Initially, the team at Newcastle Waters used the technology to monitor weaner bulls.
"We run the company's multiplier stud herd, which disseminates Consolidated Pastoral Company's elite genetics across its commercial bull-breeding program," Jak said, adding that Newcastle Waters supplied around 800 bulls for the program each year.
By trialling the system in this area of the enterprise, Jak quickly found there were numerous benefits. He outlined some of the top ones:
1. Identifying good performers
Being able to regularly record individual weights, without labour or stress on animals, helped us identify those faster-growing bulls and, by tracing their dams and sires, we have identified those superior genetic lines.
2. Avoiding weight loss
Being able to regularly monitor weights and pasture quality made us realise the bulls had started losing weight before it was evident through normal visual assessment, i.e. condition score and pasture decline. As a result, we put them on supplement two weeks earlier than we normally would have. It's a lot easier to maintain weight than it is to put it back on.
3. Animal welfare and labour efficiency
Instead of mustering paddocks to see if we have animals ready for sale, a remote weighing station – even in our largest paddocks – could provide enough weight samples to let us know we have enough animals meeting a target weight to make mustering worthwhile.
We have measured that in walking five kilometres to the yards, animals are losing 2.5% of their bodyweight – and that doesn't account for the walk back. If you keep doing that to the tail-end of the mob, it makes it pretty hard for them to make go forward and, if you extrapolate that weight loss across 5,000 head or so, it soon adds up. By eliminating those losses, it wouldn't take long for the technology to pay for itself.
Information
Jak Andrews E: jak.andrews@pastoral.com
Join myMLA today
One username and password for key integrity and information Systems (LPA/NVD, NLIS, MSA & LDL).
A personalised online dashboard that provides news, weather, events and R&D tools relevant to you.
Customised market information and analysis.
Already registered for myMLA?