Running a business with precision
10 February 2017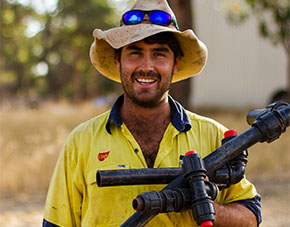 Murray Grey describes the Precision Pastoral Project as 'a real game-changer' for extensive grazing enterprises in the north.
A project participant for the past three years, Murray has trialled the walk-over-weighing unit in combination with the satellite imaging system that delivers information on pasture quality verified by animal performance.
He is so impressed with the technology and the information it makes available to him that he plans to install this equipment permanently.
"My calculations show this technology could save us upwards of $40,000 a year and the labour component is only a small part of that," he said.
"The biggest gains come from minimising weight losses. The technology is a more accurate guide to what the country is capable of."
Learning curve
Murray, whose family has owned 'Glenflorrie' for more than 20 years, said he was shocked at the differences between his visual assessments of livestock condition and pasture and the project data he was receiving.
"I drove down the road past a paddock with cattle in it and thought everything looked okay but the system said they were starting to lose weight," he said.
"There was still a bulk of feed there but they couldn't eat enough of it to maintain their bodyweight and my estimate of where they should have been was six weeks out.
"It really caught me on the hop because I hadn't planned to move them that early.
"By the time I could, they had lost half to a full condition score, which cost us about $15,000.
"It taught me to be more flexible and to have somewhere to shift cattle to if we need to."
By being able to access current, constant weight data, Murray also discovered that his cattle lose, on average, 11kg/head when mustered out of the holding paddocks and walked 12km to the yards for drafting.
"That's weighing them full and trying to look after them as much as we can," he said. "They lose more weight walking back to paddock."
Murray said the additional auto-drafting function on the weighing platform could achieve some significant savings.
"By being able to program it to draft animals according to whatever parameters you want, businesses can avoid unnecessary weight losses caused by mustering unwanted animals and by disrupting the mob's routine," he said.
The system, which Murray refers to three or four times a week, also provides early warnings.
"If you've got fewer animals crossing the platform it may indicate missing cattle or deaths and, conversely, if there are more cattle crossing it than usual it may indicate animals have got into the paddock and fences need fixing," he said.
Training
So far, Murray has trained three mobs (about 700 head) to use the weighing platform as an access point to water. He said the training process usually took about 10 days.
"We start with a wide gap for cattle to access water and then gradually narrow it until they are happy to walk through the race and over the platform," he said.
In the past three years only three animals have refused to use the platform and Murray said the simple solution was to shift them to another paddock.
Murray can see huge potential for the project to expand its telemetry applications.
"Daily tank level monitoring, for example, could save on labour as well as reduce mortalities," he said.
More information
Murray Grey E: glenforrie@hotmail.com or visit http://www.centralstation.net.au/meet-the-crew/glenforrie-station/
Join myMLA today
One username and password for key integrity and information Systems (LPA/NVD, NLIS, MSA & LDL).
A personalised online dashboard that provides news, weather, events and R&D tools relevant to you.
Customised market information and analysis.
Already registered for myMLA?