Scoring for optimum production
23 March 2017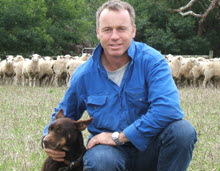 South-west Victorian lamb producers Tim and Georgie Leeming have seen the impact of condition score targets on lamb performance through their involvement in the MLA-funded Lifetime Maternals project.
The Leemings run a breeding enterprise based on Coopworth composite genetics at their 1,500 ha Pigeon Ponds property, north-west of Hamilton, Victoria. They joined 6,600 ewes in 2016 and will send progeny to the feeder market, aged 13-16 weeks of age.
To achieve their target of joining an additional 1,000 ewes on their farm this year, the Leemings retained a higher portion of ewe lambs in recent years and 41% of the flock is currently aged two years and under.
Ensuring lamb survival from a young flock requires discipline to maintain optimum ewe condition at reproductively critical times.
Since 2014, the Lifetime Maternals project has tracked the performance of maternal ewes and their progeny through the reproduction cycle to see if the same condition scores apply (as to Merinos) or if productivity and profitability can be increased with alternative feeding regimes.
Tim said the Lifetime Maternals research reinforced many observations – such as fatter ewes at joining achieve higher conception rates. It also provided guidelines for questions such as: how light can you run single-bearing ewes to prevent dystocia and what are the condition score thresholds for multiple pregnancies?
"How we manage ewes with multiple lambs, especially twins, is where we see the biggest economic gains and losses," Tim said.
"This research gives us more information around what knobs we need to turn to dial up nutrition for our twinning ewes."
His ewe management strategies include:
Nutrition
A grain and graze program is used to renovate perennial pastures and bridge nutritional gaps. Oats are grazed in late winter (and still harvest at 80-100% yield potential), and grain is retained to feed pregnant ewes in late summer and autumn, offsetting supplementary feeding costs.
Joining
A single cycle joining program with older ewes runs from mid-January to early April. Teasers (vasectomised rams) are used for two weeks prior to rams going in at 2.5% (rams/100 ewes). The joining schedule is: rams in for 17 days, out for 20 days, in for 17 days, out for five days, in for 17 days. Ewe lambs also have staggered joining from late August when more feed is available.
"Preg-scanning shows us that about 75% of ewes join up in the first 17 day cycle, so we might tighten the joining cycle to 14 days in the future," Tim said.
This joining strategy not only weeds out ewes with poor reproductive performance, but is important at lambing time. The Leemings' property ranges from protected red gum paddocks to open hills, but staggered joining spreads the risk from inclement weather, as all ewes can be lambed onto paddocks with 1,500kg dm/ha and shelter.
It paid off last year. Despite the wettest winter in 30 years, 87% of foetuses survived. The Leemings received 650mm (more than their annual average) from May to September.
Preferential management
Tim said lamb survival is economically fundamental in his self-replacing meat breed enterprise, especially with a young flock. Last year, commercial ewe lambs (born June/July 2015) scanned at 152% and Tim aimed for this to translate to 110% marking.
Tim sets targets of condition score 2.7 for ewes that scanned with single lambs for lambing, and at least condition score 3 for multiples. He observed minimal cases of dystocia last year with less than 1.2% ewe mortalities in single bearing ewes.
Multiples graze on at least 1,400kg dm/ha and are run in smaller mobs than the singles. In 2016, the June lambing multiple-bearing ewes were stocked at seven ewes/ha in average mob sizes of 54 head, while their single counterparts were run at 11 head/ha in mob sizes of 200-450. This stocking rate increased by around one ewe/ha in multiples for each of the next two following lambings in late July and mid-August.
Ewe mortality in twin bearing ewes was less than 1% during lambing, and lamb survival in multiples averaged 85%.
Ewe recovery
After marking, ewes and lambs are run in larger mobs and rotated through cropping paddocks and pastures.
"We are proactive in making the right decisions to get the ewe back to her optimal joining target while we have quality feed," Tim said.
When there is plenty of feed, the Leemings wean lambs at 12 weeks of age. However last year, with waterlogged paddocks reducing feed availability, they were weaned down to nine weeks to deactivate lactation so ewes started laying down condition for this year's joining.
"2016 put our grazing skills to work and it was great to come into October fully stocked up with a full moisture profile."
Information:
Tim Leeming E: pconsult@bigpond.com
Read about the Lifetime Maternals project on pages 19-20 of the November/December 2016 edition of Feedback.
Join myMLA today
One username and password for key integrity and information Systems (LPA/NVD, NLIS, MSA & LDL).
A personalised online dashboard that provides news, weather, events and R&D tools relevant to you.
Customised market information and analysis.
Already registered for myMLA?