Seeking goat leaders
21 August 2018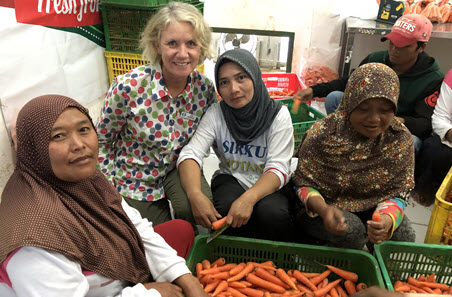 Are you ready for a challenge that will help you create lasting impact in all parts of your life? Are you interested in helping create positive change in Australian agriculture and the goat industry?
MLA and the Goat Industry Council of Australia (GICA) will provide $50,000 in funding support for one commercial goat producer to complete the Australian Rural Leadership Program (ARLP) starting in July 2019.
Current course participant Trish McKenzie had this to say about the program "I cannot thank Meat and Livestock Australia and the Goat Industry Council of Australia enough for the fantastic opportunity that has been given to me by their sponsorship provided for the Australian Rural Leadership Program.
"Meeting new people, getting to know them and having the opportunity to spend quality, sometimes challenging, mostly fun times with this group from all over Australia has been an amazing experience.
"If you want to improve yourself by becoming a better leader and really make a difference in your community and rural and remote Australia I suggest you apply for the next Australian Rural Leadership program."
ARLP provides participants with:
• experiential learning – challenging situations in a range of contexts
• the time and space for reflection
• opportunities to develop to become an intuitive leader
• the ability to influence and make an impact in rural, regional and remote Australia.
ARLP is a 15-month leadership development program taking place over five sessions, across Australia and Indonesia. Participants will develop:
• improved personal effectiveness
• a better understanding of ethics, values and social responsibility
• leadership thinking
• industry, community and regional engagement
• ongoing diverse relationships for peer support across sectors and regions.
Eligible applicants include commercially focused goat producers and leaders from rural, regional and remote Australia with a genuine commitment to the 'greater good' of rural, regional and remote Australia, as well as the Australian goat industry.
GICA and MLA will provide a scholarship of $50,000 plus GST and the winning applicant will need to contribute $5,000 plus GST towards program costs and for lifetime membership of the Network of Fellows.
The program will run from July 2019 to October 2020. Applications for ARLP Course 26 close on 30 September 2018. Apply here
Join myMLA today
One username and password for key integrity and information Systems (LPA/NVD, NLIS, MSA & LDL).
A personalised online dashboard that provides news, weather, events and R&D tools relevant to you.
Customised market information and analysis.
Already registered for myMLA?