Seven questions to assess business health
26 October 2017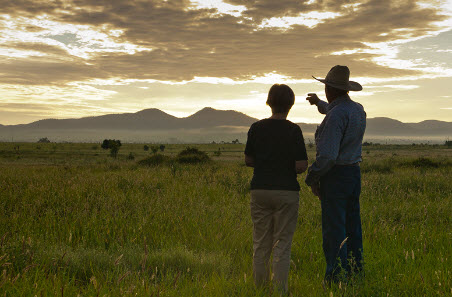 Profitability in livestock production is no longer just a result of working hard and being frugal, according to business consultant Ian McLean.
"To be a successful manager of a modern agricultural business, you need a multi-disciplinary skill set. Financial literacy is the most important of those skills," he said.
"Agricultural businesses are big operations turning over millions of dollars and managers require a sophisticated understanding of all aspects of the business."
Ian is delivering Business EDGE workshops at locations across Queensland in the next six months. He urges producers to sign up to find answers to the seven questions to accurately assess the health of their business. These are:
Am I just keeping records for tax reporting purposes? Meeting tax compliance should be the final task for your financial data collection – not the first. Using financial data to evaluate business enterprises is a powerful way to understand profitability.
Do I understand the figures? Interpreting key financial information is crucial.
Which data matters? Understanding your profit before interest and tax is crucial in assessing business health and calculating those figures comes from knowing what data impacts this.
Can our business afford debt? Debt can create or destroy wealth.
What are our goals and aspirations? Understanding the needs and desires of your family and whether your business can fund them is essential and helps manage issues such as succession planning and education.
What are the risks in my business? Honest assessment and management of business risk (such as weather, prices, health and safety) is crucial.
Profit – where does it come from? Knowing how your business makes a profit and what you can do to influence profit in individual farm enterprises sets your business up for success.
Business EDGE was developed by MLA in 2010 for northern beef enterprises and in 2016 was extended to cover southern livestock businesses.
Upcoming workshops in northern Australia include:
Townsville: 16–17 November 2017
Rockhampton: 20–21 November 2017
Charleville: 5–6 March 2018
Goondiwindi: 8–9 March 2018
Register at babusiness.com.au/thebusinessedge
Upcoming workshops in southern Australia include:
Southern Highlands, NSW: 29-30 November 2017
Walcha, NSW: 5-6 December 2017
Gloucester, NSW: 6-7 December 2017
Register with prue@holmessackett.com.au
Join myMLA today
One username and password for key integrity and information Systems (LPA/NVD, NLIS, MSA & LDL).
A personalised online dashboard that provides news, weather, events and R&D tools relevant to you.
Customised market information and analysis.
Already registered for myMLA?