Sheep health data goes digital
26 June 2017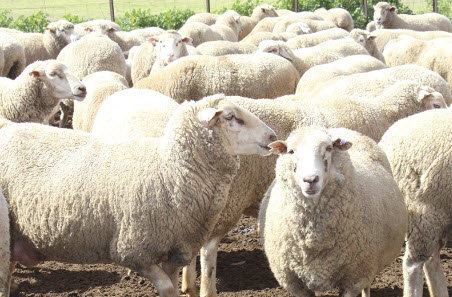 Valuable animal health and disease information provided by the National Sheep Health Monitoring Project (NSHMP) is now only a mouse click away with online access available via the online carcase feedback system, Livestock Data Link (LDL).
The NSHMP, which commenced in 2007, monitors sheep carcases in abattoirs for animal health conditions that reduce profit across the value chain through productivity losses and/or increases in meat processing wastage.
The project is funded by national sheepmeat and wool levies and is managed by Animal Health Australia (AHA). Monitoring currently occurs in 14 domestic and export processing plants for a range of sheep production health and welfare conditions, with the intent to get more processors involved in the program.
In the last 12 months, NSHMP reports have been posted at varying intervals to sheep producers by state agriculture and primary industry departments. LDL will change this process and allow timely feedback to producers through electronic means.
LDL was released to producers by Meat & Livestock Australia (MLA) in 2015 to enable carcase performance to be analysed with results linked to a library of solutions on how to address animal health conditions on-farm.
This new, streamlined access to NSHMP information will now provide rapid and timely information to producers to help fight against the estimated $116 million in losses to industry incurred annually as a result of the diseases and other health conditions the NSHMP monitors.
Making NSHMP data available through LDL is a collaborative initiative between MLA and AHA on behalf of the Sheepmeat Council of Australia (SCA) and WoolProducers Australia (WPA).
Integrity Systems Company CEO Dr Jane Weatherley said the release of NSHMP data through LDL would offer significant advantages to producers and processors in accessing and sharing animal health information, as well as its utilisation to improve value chain performance.
"The release of this data in LDL means that the information is available much faster and is available electronically for the producer and processor to access whenever they like," Dr Weatherley said.
"This is a significant step in the development of MLA's Digital Value Chain Strategy, which is designed to connect all value chain stakeholders and improve productivity in the red meat industry through the effective sharing of data, utilising the world's best digital technology."
Sheepmeat Council of Australia CEO Dr Kat Giles said the initial reports available in LDL focus on providing information such as number of animals processed, number inspected and the total number of health conditions observed.
"Sheepmeat Council views feedback on health conditions as extremely important and has worked tirelessly to provide an efficient mechanism for delivering this information," Dr Giles said.
"We are very excited that LDL now provides the opportunity for producers to view their information quickly and easily, while enabling access to previous reports.
"Providing this basic information is a huge step forward and we will continue to work to improve functionality, and increase the capability of reports."
WoolProducers Australia CEO Jo Hall said the NSHMP provided data for up to 16 diseases and conditions to producers who send stock to be processed.
"They include cheesy gland, grass seed lesions, hydatids, liver fluke, sheep measles, bladder worm and pneumonia," Ms Hall said.
"All of these conditions have fact sheets or 'Solutions to Feedback' linked to them in LDL which provides producers with easy to understand information that explains the cause of a health condition, and importantly, how to address these conditions on farm."
Animal Health Australia's Executive Manager, Biosecurity and Product Integrity Services, Duncan Rowland, said the total cost to industry from the diseases and health conditions captured by the NSHMP was significant.
"Of the total cost, $88.9 million was the cost to the combined meat and wool sheep production sector and $27.9 million was the cost to processors," Mr Rowland said.
Producers can gain access to LDL by logging into the site, using their current NLIS account login.
Upon entering LDL for the first time, new users will be required to agree to the LDL Terms of Use, after which an account will be activated. They will then be able to view their data within LDL providing they have had animals inspected under the NSHMP.
Processing establishments involved in the NSHMP will only be able to view their own data and producer data access is limited by Property Identification Code (PIC). LDL may include other data such as information on carcase compliance against the grid it is consigned to, depending on whether the processor has elected to participate in these components of LDL.
The previous 12 months of NSHMP data will be available initially and new data will appear within a short time period of being collected.
Join myMLA today
One username and password for key integrity and information Systems (LPA/NVD, NLIS, MSA & LDL).
A personalised online dashboard that provides news, weather, events and R&D tools relevant to you.
Customised market information and analysis.
Already registered for myMLA?