Simple steps to lift weaning rates
21 September 2017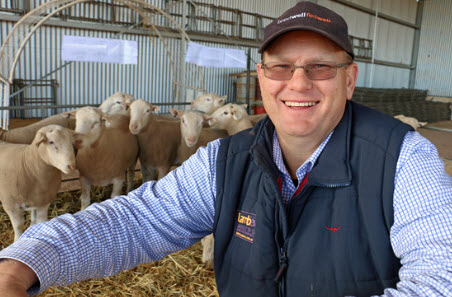 Sheep consultant and MLA Bred Well Fed Well program deliverer, Dr Jason Trompf, is urging sheepmeat producers to move away from scanning for pregnancy status and to start detecting for multiples instead.
"By wet-dry scanning, or not scanning at all, we are treating our ewes with contempt,'' Jason said.
"More than 3,000 producers have participated in Lifetime Ewe Management and the producers that have adopted scanning for twins and differential management have lifted their whole-farm weaning by 15%.
"The break-even costs on every extra lamb is 15% lower than the producer benignly feeding all ewes (regardless of pregnancy status).
"There are farms consistently scanning 135% and marking 110% lambs in Merinos. It requires attention to detail but the pay-offs are profound.''
How to get scanning right
Ideally, pregnancy scanning should be carried out at day 75–80 on a five-week joining (40 days after ram removal).
"Don't scan and leave the ewes boxed together, then separate singles and twins at pre-lambing inoculation or drenching, as the opportunity for differential management of singles and twins to drive ewe and lamb survival is reduced,'' Jason said.
"Once a ewe drops in body condition score, she partitions less resources to the developing foetus and birth weight drops.
"Overall, the keys that drive lamb survival are birth weight and privacy (in the lambing paddock).''
Jason said less than 20% of the nation's 37 million breeding ewes were managed under targeted treatment.
This means 80% of the ewe flock lambs down in conditions where pasture is not allocated based on pregnancy status.
Moving with the times
National marking rates have increased by 10% in the past 10 years.
Jason said a doubling of non-Merino or first-cross ewe numbers and the advent of self-replacing meat flocks from 2008 onwards accounted for almost half of the gains in marking.
"People used to say the prime lamb industry is reliant on Merino genes, but the only Merino genes that will make the grade in the prime lamb industry will be those that are good enough,'' he said.
"We are no longer reliant on first-cross ewes – less than 10% of the ewes nationally are Merinos joined to Border Leicester rams.
"Only 40% of the ewe lambs born in Australia are pure Merino, so we are effectively ending up with a self-replacing meat flock and a Merino industry.''
Census data taken in 2016 revealed 28% of sheep producers had switched away from Merinos since 2011.
Boosting lamb survival
Jason said one of the common aims across all sheep types should be to lift kilograms of lamb weaned per hectare, adding the number of live lambs as a function of ewe stocking rate, scanning percentage and lamb survival.
"Our nation's flock is awash with fertility but it is the conversion to live, fast-growing lambs that counts," Jason said.
To boost lamb survival, measurable practices include:
pasture assessment
condition scoring ewes
scanning for multiples
differentially managing ewes based on nutritional requirements
preparing energy budgets
quantifying lamb losses.
Ideally, condition scoring is done at weaning to prepare for joining and mid-pregnancy to prepare for lambing.
"Once non-Merino single bearing ewes are over condition score 3.3, you are killing ewes and lambs with kindness,'' Jason said.
"The target in this ewe type we have to strive for is half a condition score in favour of the twin over the single at the point of lambing – say 2.8 condition score for single bearers and 3.3 for twins.''
Nailing differential management
At the point of lambing on high quality pastures, single bearing ewes require 1–1.1 tonnes of dry matter (DM)/ha, while multiple bearing ewes need a minimum pasture target of 1.5 tonnes DM/ha. However, recent research has demonstrated that twin bearing ewes can maintain body weight and condition score on as little as 0.4–0.6 tonnes DM/ha of high quality pasture where the seasonal conditions are also delivering high pasture growth rates.
"At the end of the day we've got to drive feed production, high and balanced soil fertility on good pasture species, and turn that pasture into product with high pasture utilisation,'' Jason said.
Want to learn more?
Sign up for a Bred Well Fed Well workshop
Join myMLA today
One username and password for key integrity and information Systems (LPA/NVD, NLIS, MSA & LDL).
A personalised online dashboard that provides news, weather, events and R&D tools relevant to you.
Customised market information and analysis.
Already registered for myMLA?