Spotlight: Brendan Fletcher
06 December 2017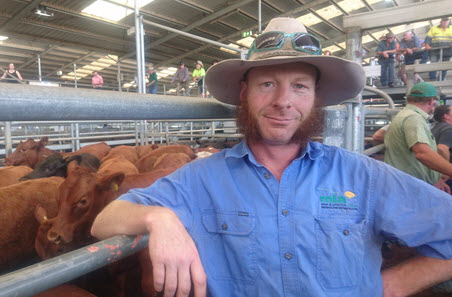 Tell us about your patch. What's been happening at the markets there over the past year?
I cover basically all of the Gippsland region in Victoria.
There's a big variation in climate and soil types here – it's a land of contrast. South Gippsland's had a really good season, while east Gippsland didn't really get a spring at all. A lot of people turned off cattle early.
We've had a few store cattle moving through, but not a lot of fat ones. It's a big breeding area so people are mainly breeding calves specifically for the store market.
What's the best part about your job?
I love everything about it. It's interesting and keeps my mind active. The cattle market never stops changing, and there're so many different influences on supply, demand, and even the condition of the cattle. I think it's fascinating.
What are some of the challenges in your role?
Travel would probably be the main one – I have to do a lot of it. It's not so much the driving that's the challenge…it's the other drivers on the road!
It's also a bit of a challenge when people see a different view of the market to what I've written in the reports. But I find that once you sit down and have a conversation with them, and you talk through it, everyone walks away satisfied.
All in all there aren't too many challenges. I'm lucky that I have a lot of experience and can be confident in the job.
When you're not at the saleyards, where would we find you?
You'd find me out in one my paddocks, chasing cattle – or chasing ducks. I breed Indian Runner ducks and sell the duck eggs from the farm gate, or from some retail outlets. I also breed purebred Sussex chickens…so I'm always busy.
What's your favourite red meat meal?
There're so many beautiful red meat meals! I'd have to go with a lamb roast straight off the coals.
Join myMLA today
One username and password for key integrity and information Systems (LPA/NVD, NLIS, MSA & LDL).
A personalised online dashboard that provides news, weather, events and R&D tools relevant to you.
Customised market information and analysis.
Already registered for myMLA?