Take control of feed costs
08 February 2018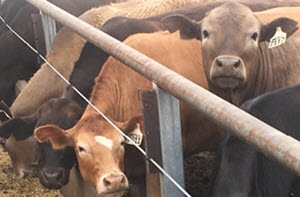 Managing cattle through tough seasons can be emotionally and financially challenging.
However, according to Désirée Jackson, deliverer of MLA's Nutrition EDGE course, there are practical strategies producers can employ to reduce stress, contain costs and improve animal performance.
"During the past six months many parts of northern Australia have experienced dry conditions, with pastures severely damaged by frost or small, ineffective falls of rain," she said.
"Pasture energy and protein may be insufficient to maintain animal body weight and condition score, so producers will need to consider feeding additional forage, providing energy supplements and implementing management strategies to ensure animals remain in saleable and/or breeding condition."
Tactics such as early weaning, segregating breeders for preferential feeding and reducing stocking rates can all help, but Désirée believes early preparation is crucial in order to get a herd through in the best condition possible.
"If producers know the long-term historical green date for their area and if there's been no significant break beyond that, contingency plans need to be put in place," she said.
"Even if it does rain after the production point date (which is approximately six weeks following the green date), producers should be aware their pastures will not produce the same bulk over the growing season."
Désirée warned that, if cattle have been nutritionally stressed and are in low body condition, they are often at greater risk during the transitional period after rain.
This is when the existing dry pasture has been rain-spoiled and new pasture is just emerging.
"Stocking rates need to be assessed and adjusted when carrying out a forage budget. The aim should always be to ensure there is sufficient roughage available going into the wet season," Désirée said.
"A diet quality analysis, best done when grass has gone to seed, is also useful to ascertain the balance between energy and protein so that the correct management, including the most appropriate supplement, can be determined.
"If energy is deficient and more limiting in the diet than protein, producers are less likely to get a response from urea-based supplements and may need to upgrade to an energy supplement, depending on the severity of the energy deficiency."
Be aware that urea-based supplements (including the energy-based, fortified molasses which contains urea) stimulate appetite, creating a comparative stocking rate increase of about 30%.
Two simple strategies to manage feed costs:
1. Bring weaning forward
Early weaning is an effective strategy for preserving cow body condition and cutting feed costs. Here are Désirée's recommendations for getting it right:
When cow body condition is very light, wean down to 80kg and segregate weaners into weight groups of 100kg and under, 100–150kg and 150kg plus.
Weaners under 150kg need quality forage, with adequate levels of energy and protein e.g. cereal hay, while very small weaners may need a grain-based supplement – but feed with caution.
Weaners under 150kg that are not going forward are at significant risk of poor, long-term post-weaning performance.
If young weaners are under stress or being fed in small yards, they may need a rumen modifier to prevent coccidiosis.
The aim is to get small weaners into that next weight group where they are cheaper to feed but still going ahead.
2. Determine foetal age at pregnancy testing
According to Désirée, information provided by foetal ageing at pregnancy testing can be used strategically to minimise feed costs. Here's how to manage it:
Knowing when cows are due to calve means producers can segregate breeders into those calving before the green date and those due to calve after. Costs can be reduced by feeding energy supplements to just the early calvers when it's required.
Similarly, empty cows should be identified and, if a producer wants to keep them, they have the option of feeding them a cheaper, urea-based supplement (where effective) rather than the more expensive energy-based supplements.
Maiden heifers should be managed separately, aiming to calve in body condition score of 3.5. This can be achieved by spike-feeding six to eight weeks before the start of calving. This helps minimise their post-partum anoestrous period and improves re-conception rates.
More information:
Désirée Jackson
T: 0409 062 692
Email Désirée Jackson
Want to attend a Nutrition EDGE workshop or organise one in your area? Go to:
mla.com.au/EDGEnetwork
Download MLA's free publication Phosphorus management of beef cattle in northern Australia.
Join myMLA today
One username and password for key integrity and information Systems (LPA/NVD, NLIS, MSA & LDL).
A personalised online dashboard that provides news, weather, events and R&D tools relevant to you.
Customised market information and analysis.
Already registered for myMLA?