Teys 'turns on' beef DEXA
11 May 2018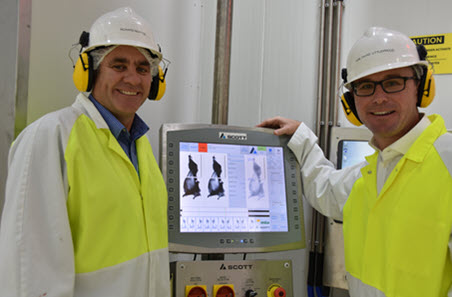 Objective measurement for the beef industry took a step forward this week with the commissioning of beef DEXA technology at Teys Australia's Lakes Creek processing plant at Rockhampton.
Teys Australia has installed the first beef DEXA (dual-energy X-ray absorptiometry) unit to specifically provide producer feedback on carcases.
Federal Minister for Agriculture and Water Resources, David Littleproud, switched on the machine for the first time during Beef Australia 2018, effectively starting the commissioning phase of the technology. It is planned producer feedback from DEXA will be available later this year.
DEXA technology provides a scientific measurement of carcase lean meat yield, bone and fat. The technology installed by Teys will have the capacity to measure up to 500 sides/ hour.
Teys Australia General Manager – Corporate Services, Tom Maguire, said Teys had invested $2 million in the beef DEXA technology at the Lakes Creek facility.
"It's going to be a game-changer for the beef industry," Tom said.
"It will give enhanced feedback to producers, enabling them to make better genetic decisions and target the best market globally for the beef they produce."
David Littleproud said the Federal Government had invested $10 million with MLA to help roll out DEXA technology.
"It's taking cutting-edge technology, making sure we can give market intelligence back to the producer and giving us integrity through the supply chain," he said.
"We should be proud of the fact that Australian innovation created this."
MLA Managing Director Richard Norton said he was proud that MLA had helped get the first beef DEXA unit up and running.
"The DEXA technology will transform the way producers get paid in the future. They will get paid on what the customer values from what they send off farm, through value-based marketing," he said.
"This technology addresses two things – it gives producers complete transparency of their product, coming through the processing facility. It gives producers objective measures around lean meat yield, bone and fat as a percentage basis, and that is absolutely critical for producers to know what they're producing.
"The other thing it addresses is the opportunity to change the way producers are paid today.
"I can't find out who came up with the current grading system of an average carcase weight with an average fat content and some of these antiquated measures around dentition, which have nothing to do with the consumer, and it's the way producers are being paid."
Join myMLA today
One username and password for key integrity and information Systems (LPA/NVD, NLIS, MSA & LDL).
A personalised online dashboard that provides news, weather, events and R&D tools relevant to you.
Customised market information and analysis.
Already registered for myMLA?