The benefits of an eye in the sky
23 March 2017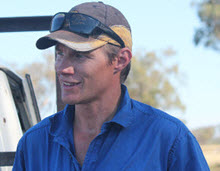 Jono Elphick admits to using the farm as 'a bit of an excuse' to buy an expensive toy in the form of a drone. But after unpacking the DJI Phantom 4 model drone, he realised his 'toy' has some serious on-farm applications that could save both time and money.
"The greatest advantage is the time-saving element of being able to quickly put up an 'eye in the sky' and gain an overall perspective of what's happening on the farm," Jono said.
Jono works with his wife's family enterprise, RN Krause & Co, to run 700 Angus-Wagyu breeders on 2,834ha at Inverell in northern NSW.
Running cattle across undulating, granite country means there is considerable, and often rough, terrain for a small team to cover.
The team regularly checks the 700 breeders, calves and additional weaned stock, water sources and fences. Using the drone has cut the time spent on these jobs from more than an hour to less than 10 minutes at far less cost.
"The other day we could hear cows bellowing from the house and instead of having to go and find the problem and then see to it, we put the drone up," Jono said.
"In that case, within five minutes (operators can see what the drone sees in live time on an iPad), we could see that there was no real issue and could get on with the rest of the day as planned."
Jono has used the drone to monitor pastures and crops during wet conditions, to prevent pugging of paddocks and monitor pest invasions.
"We have had problems with feral pigs. Having the drone is a good tool for keeping tabs on them," he said.
"Recently we had pigs in our oat crop, and with this season being so good, our oats were 1.5m high.
"There was no way conventional means would have spotted them in there or been able to remove them without doing a heap of damage."
Jono also uses the drone to monitor density of bush regrowth by comparing photos over time.
In the future, he can see drones being used in grazing and cropping enterprises to monitor nutrient removal and dry matter more easily.
More information
Jono Elphick E: jonoelphick@yahoo.com.au
See MLA's drone feature on pages 14-19 of the February/March 2017 edition of Feedback.
Join myMLA today
One username and password for key integrity and information Systems (LPA/NVD, NLIS, MSA & LDL).
A personalised online dashboard that provides news, weather, events and R&D tools relevant to you.
Customised market information and analysis.
Already registered for myMLA?