The importance of recording the performance of your cattle: part three
19 October 2017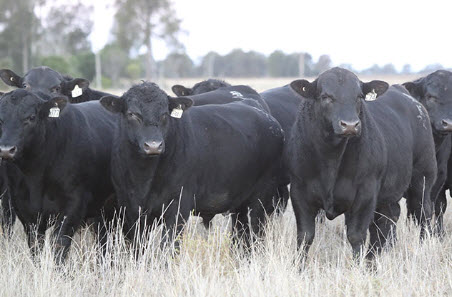 This article was first published in the Tropical Beef Technology Services and Southern Beef Technology Services TechTalk newsletter. TBTS and SBTS has granted MLA permission to reproduce the article.
Following on from parts one and two of TBTS and SBTS's TechTalk, this thrid part of 'The importance of recording the performance of your cattle' focuses on BREEDPLAN.
Find out what traits have been recorded for each animal on the BREEDPLAN database and the value of recording traits for which BREEDPLAN does not currently calculate EBVs.
How can I tell what traits an animal has been recorded for on BREEDPLAN?
The traits for which data has been submitted to BREEDPLAN are listed below the EBVs on the Individual Animal Page on Internet Solutions. An example of this is shown in Figure 4. In this particular example, the animal has had a calving ease score, a birth weight, two 200 day weights, a 400 day weight, a scrotal circumference and ultrasound scan data (eye muscle area, rib fat depth, rump fat depth and intramuscular fat) recorded with BREEDPLAN.
Figure 4: Traits observed section on an individual animal page on Internet Solutions.

Below the 'traits observed' listing it is also worth noticing that the animal has 688 progeny in 33 herds recorded, 351 of which have been scanned and 48 daughters with their own progeny recorded (grand progeny of the original animal listed). These progeny trait records also increase the accuracy of this animal's EBVs.
Some breed societies display the 'completeness of performance' herd rating for individual BREEDPLAN herds on Internet Solutions. For these breeds, it is also possible to look at the general recording level within a herd by checking the individual herd's Completeness of Performance Star rating. The star rating is a one to five scale (with five stars being the 'gold standard') and reflects how much data each breeder submits to BREEDPLAN. Some breeders also make the traits recorded with BREEDPLAN available by listing the measurements taken and/or the raw observations for some traits in their sale catalogues.
What happens if BREEDPLAN doesn't calculate EBVs for some of the traits I want to record?
There are a number of breeds for which the full range of BREEDPLAN EBVs is not yet available. This is usually due to the lack of sufficient records within these breeds to analyse for that trait. The most commonly unavailable are the days to calving, calving ease, structural soundness and temperament EBVs (either docility or flight time). In addition, BREEDPLAN has recently commenced recording some new traits in some tropical breeds. These are buffalo fly lesion score, tick score and coat score.
If either of the above scenarios apply to you and you already record that trait in your herd (e.g. calving ease EBVS not available but you record calving difficulty scores for calves), then this data can be submitted to BREEDPLAN for storage and potential use in future BREEDPLAN analyses.
Remember, if the trait is important to you and/or your clients then make sure you are recording it! For further information on recording performance data, please contact Southern Beef Technology Services (SBTS) or Tropical Beef Technology Services (TBTS).
More information:
Southern Beef Technology Services (SBTS)
Tropical Beef Technology Services (TBTS)
The importance of recording performance in your cattle:
Join myMLA today
One username and password for key integrity and information Systems (LPA/NVD, NLIS, MSA & LDL).
A personalised online dashboard that provides news, weather, events and R&D tools relevant to you.
Customised market information and analysis.
Already registered for myMLA?