The opportunities for premium Australian beef
08 June 2017
Consumer insights from global data, surveys and in-market intelligence indicate growing demand and opportunities for premium beef. But the Australian red meat industry should also be alert for increased competition and other emerging trends that may dilute success in the global premium protein market. This was one of the messages MLA's Lisa Sharp (Chief Marketing and Communications Officer) presented at the 2017 Australian Wagyu Association Conference last month. Other key messages included:
'Plate-to-Paddock'
'Paddock (supply) to Plate (demand/consumers)' is a well-established phrase in the Australian red meat industry. Rather, Lisa challenged the audience to think 'Plate-to-Paddock', where the consumer is considered first. This has implications for the way businesses set their objectives, where distinctive business strategies are developed based on insights about their consumers.
Beef growth curve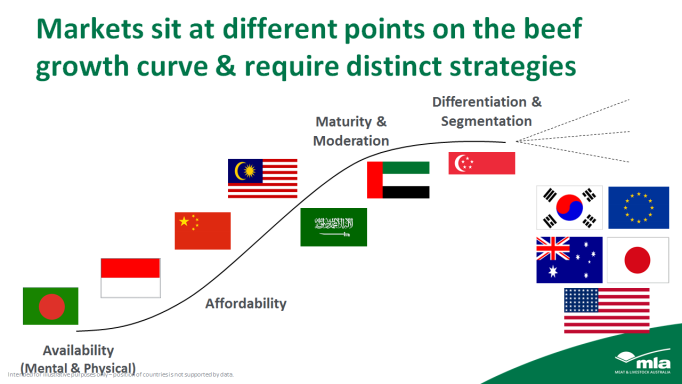 'Consumer first' thinking is important because each market sits at different points on the beef growth curve, requiring distinct and unique strategies (see graph).
Within those markets, there are clusters of consumers who can afford and are willing to pay for what Australian premium beef can deliver. MLA – through its market insights team – collates insights on these clusters of consumers using data, surveys and in-market intelligence.
MLA Global Consumer Tracker
As well as collecting macro, business and trade data, MLA also extracts insights from the annual MLA Global Consumer Tracker. The Tracker is an annual quantitative research study to identify trends and the awareness of Australian red meat relative to competitors, and map the consumer path to purchase.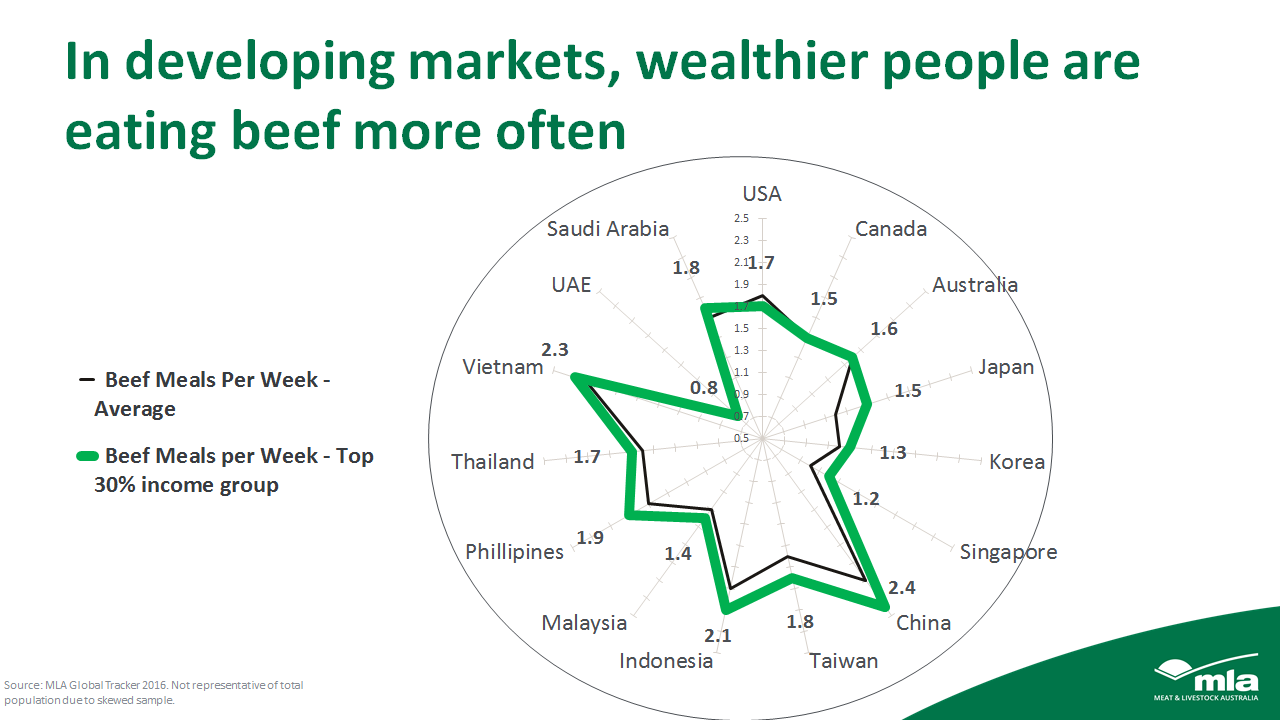 In this chart which was extracted from the 2016 Global Tracker, the top 30% of the population, by income* was selected as a proxy for potential buyers of premium beef. By comparing this group to the average, MLA can profile this target audience and better understand their drivers and needs. (*except China where MLA looked at the top 15%)
This data is just one of the many indicators the MLA market insights team uses to assist industry participants who target their products to premium consumers, both in developing and developed markets.
Insights as part of your brand strategy
MLA's insights drawn from this information - and many more sources - assist the industry to understand the segments with growth opportunities. It also alerts participants to potential issues, risks and challenges to assist decision making. Insights can then be integrated with individual targeted brand strategies.
Brand owners of premium and high value beef have countless opportunities to build a unique story, point of difference, and provide consumers with reasons to believe why they should invest in their products.
And of course, all these need to stand on a solid foundation of product integrity – basic promises that consumers can refer to and trust.
More information
During the presentation, MLA also presented the preliminary results of the Australian Wagyu Association's member survey on supply and projections. Final analysis is being conducted at present.
To find out more about MLA's market insights, contact:
Miho Kondo
Market Insights Manager
Meat & Livestock Australia
E: mkondo@mla.com.au
Join myMLA today
One username and password for key integrity and information Systems (LPA/NVD, NLIS, MSA & LDL).
A personalised online dashboard that provides news, weather, events and R&D tools relevant to you.
Customised market information and analysis.
Already registered for myMLA?